Today's post is from AnneMarie, a guest contributor from Sacrifice of Love.

As summer begins each year, my refrigerator typically begins to showcase at least one or two wedding invitations. Each wedding brings a lot of excitement, fun, and anticipation…and gift-giving. I like giving and receiving gifts, but I will be the first person to admit that I'm terrible at deciding what to give others.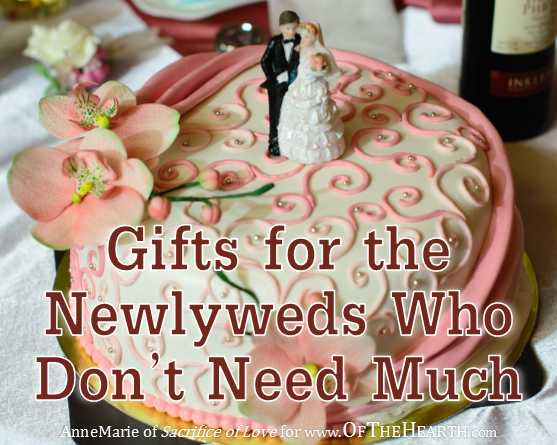 Furthermore, when newlyweds begin their life together after the wedding, they may not initially need very much. Some people—especially if they have been living independently for several years and already own many household items—may not be in need of more "typical" wedding gifts of dishes or cookware. Other people may move across the country shortly after their wedding, so they're unable to bring several gifts with them.
Even with a wedding registry in hand, it can still be hard to know what the best gift is for a newlywed couple. Plus, when a gift registry is mostly completed or does not have any unpurchased gifts left that are within one's budget, gift-giving can become much trickier. Over three years of marriage, I have noticed that some gifts have been more helpful than others. If you have a friend's wedding coming up and you're stumped about what present to give, perhaps these ideas will help you out:
Dark-colored towels or washcloths.

Black is not my favorite color, and towels may seem like very ordinary gifts. However, I cannot count how many times our black towels have come in handy over the course of our marriage. Messes inevitably happen, and owning towels that both look nice and will not show stains is often a small sanity-saver. Even just one or two dark-colored towels or washcloths can be a nice addition to the linen closet.

A soap chest.

I had heard of "hope chests," but I was surprised when we received a "soap chest" for our wedding: A large plastic tub filled with name-brand household cleaners, body washes, shampoos, and soaps. Being given an assortment of cleaning supplies was very handy as we moved into our new apartment. Instead of needing to drive to the store to purchase laundry detergent or hand soap, we already owned some! Plus, the cost of cleaning supplies can really add up over months of daily or weekly use, so not having this expense was helpful. For gift-givers with a tight budget, a group of friends or family members could all contribute items to a "soap chest" for the new couple.

Gift cards for retail stores.

I always hesitate before buying gift cards for other people because this feels like such an impersonal gift. However, especially if a newlywed couple does not have room for many gifts in their home—or if they are moving across the country—gift cards will be very much appreciated. Gift cards for retail stores are also a very affordable option, because the gift-giver can choose the amount that works best in his or her budget. As they discover unexpected items that are needed for their newlywed life or home, a couple can then use these gift cards. In fact, three years after our wedding, my husband and I still have gift cards left that we use to purchase various items that we need!

Gift cards for restaurants or entertainment.

Every married couple needs time to relax together and enjoy themselves, but it can be hard to prioritize the time or money to have the occasional date night. My husband and I are a bit more frugal, so we usually don't spend much money on eating out, although we enjoy it occasionally. So, it was a very nice treat to receive some gift cards to restaurants and movie theaters when we got married. However, if you do choose to gift a newlywed couple with gift cards for restaurants and entertainment, I recommend that you first check to see if those establishments exist in the town where the couple will be living, given some franchises and chains do not exist in certain areas of the country.
Although gift-giving can be very fun, it can also seem like a tedious task at times. Hopefully these ideas can provide a good starting point of brainstorming for any gift-giving in your future. Do you have any other ideas of useful gifts for a newlywed couple? Let's chat about them in the comments!
AnneMarie is an old-fashioned, book-loving, somewhat hippyish, quirky young wife and mom who loves discussing life and sharing her adventures with readers. Learn more about AnneMarie, her faith, and her many undertakings at her blog, Sacrifice of Love.
Shared at the following:
Coffee and Conversation, Weekend Wind Down, Making Your Home Sing, and Friday Frivolity.
Save
Save
Save
Save