I've been meditating recently on God's omnipresence—that He is present in all places at all times.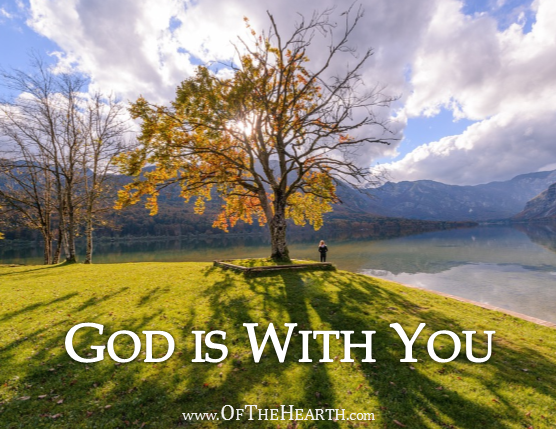 I take great comfort in this because sometimes I feel overwhelmed and underappreciated in my role as a stay-at-home mom. It feels good to know that God sees the hard work I do. God sees when I'm changing the third poopy diaper of the day. He sees when I'm so tired that I'm not sure I have the energy to make dinner for my family. He sees when I wipe up the floor beneath the highchair for what has to be the millionth time. He sees when I die to myself over and over again in order to do what is right for my children.
In addition to being comforting, the knowledge that God always sees me is a little disconcerting. God sees when I lose patience and raise my voice at my daughter. He sees when I turn to chocolate to handle a stressful situation instead of turning to Him. He sees when I put off cleaning the bathroom by indulging in an episode (or two) of a TV show. He sees when I judge the parenting decisions made by other moms.
As wondrous as it is that He sees all of this, it's only the beginning. God doesn't simply observe us from a distance so He can take note of the right and wrong things we do. He is with us.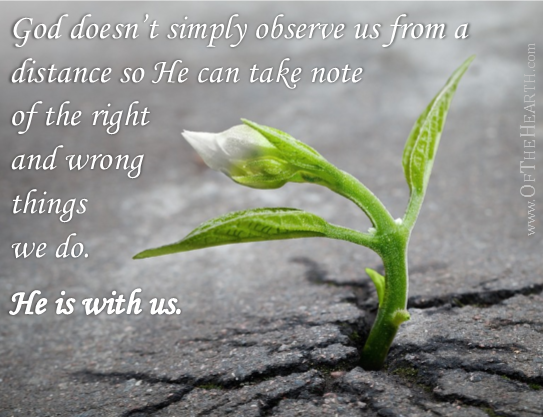 He's with us to bring peace to chaotic situations (John 14:27). He's with us to bring strength when we're weak (2 Corinthians 12:9-11). He's with us to provide wisdom (James 1:5). He's with us to help us take our thoughts captive (2 Corinthians 10:5). He's with us to help with whatever we need (Philippians 4:19). He cares about us and every aspect of our lives.
You may or may not face challenges as a stay-at-home mom. Your challenges may be associated with your role as wife, employee, friend, sister, or something else. Whatever it is that you're facing, remember that God sees and that He is with you.
What challenges are before you today? What are you going to do to remind yourself that God is with you?
Shared at the following link parties:
Making Your Home Sing, Monday's Musings, Titus 2 Tuesday, WholeHearted Wednesday, Word Filled Wednesday, and Living Proverbs 31.