A couple of weeks ago my husband and I were somewhat speechless at an article we read on the news: Would You Go One Year Without Makeup? In short, the article is an account of a 20-year-old university student who is going a year without wearing makeup. She has undertaken this "experiment" to help women become more confident and feel empowered.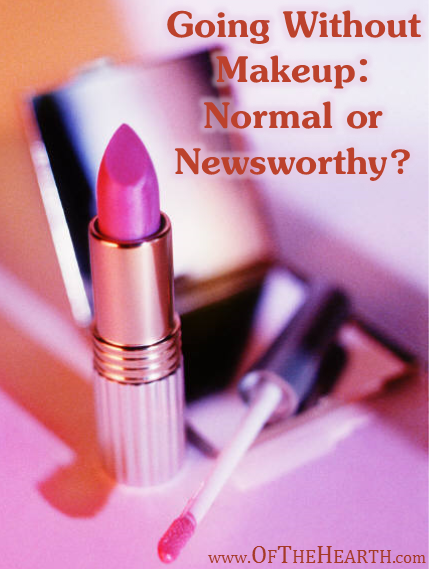 We were astounded that this story was newsworthy. Is it really a big deal for a young woman to go without makeup?
Apparently it is a big deal for many. Mint.com indicates that 80% of women wear makeup and that the average woman spends $15,000 on makeup during her lifetime. This article explains that many women feel that going without makeup is more stressful than a first date or a job interview.
Does any of this surprise you? Does it tell us something about our society?
Our surprise at the article was likely due to the fact that I don't generally wear makeup. On occasion I'll use a little powder (especially if it's hot and my face is getting shiny due to sweat), but that's it. I don't wear foundation, mascara, eye shadow, lipstick, or anything else. I didn't even wear makeup on my wedding day!
Personally, I choose not to wear makeup because I feel I have more important things on which to spend my money and time. Moreover, I don't want my beauty to come from outward adornment, but from internal qualities (1 Peter 3:3-4).
I know a large number of wonderful Christian women who do wear makeup. They wear varying amounts and they wear it for various reasons. Thus, I'm curious to hear about your experiences. Why do you choose to or choose not to wear makeup? If you wear makeup, would you ever consider going without it for a time? Do you feel it is generally good or bad that women have access to makeup? Share your thoughts in the comments section below.
Shared on the following link-ups:
Works for Me Wednesday, Titus 2 Tuesday, Motivation Monday, Making Your Home Sing, Essential Fridays.