I'm the sort of person who really likes predictability and routine. Subsequently, I'm often not a fan of new things. When I have a daily routine that works, I don't like for it to be interrupted. When I have a pair of walking shoes that I really like, I loathe when they get so worn out that I have to replace them.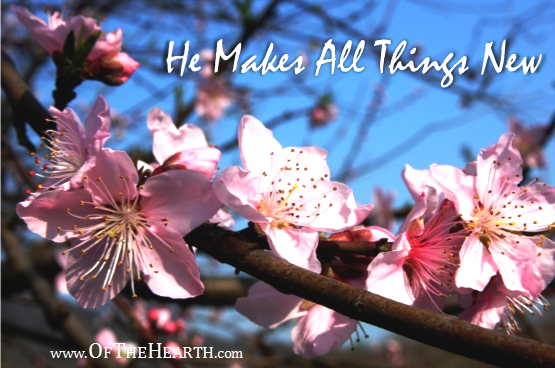 Sometimes I really need new things, though. Once I get them, I realize that they're beneficial. When I get new socks to replace my threadbare ones, I feel like a queen. When I'm forced to make a change in one of my routines, I often find that the change leads to increased productivity.
Easter thrusts new things—very consequential things—into the spotlight. Because of Christ's resurrection, we have the opportunity to put off our old sinful selves and become new (Ephesians 4:22-24, 2 Corinthians 5:17).
Becoming a new creature in Christ means that we experience newness in many facets of our lives.
We have new mercies from Him each morning (Lamentations 3:22-24).
We have renewed strength when we are tired or weak (Isaiah 40:31).
We have forgiveness and a renewed spirit each time we sin (Psalm 51:10).
We have renewed minds that keep us from being conformed to the world (Romans 12:2).
We have the assurance that someday we will inhabit a new heaven and new earth with the Lord (Revelation 21).
These are new things that I truly need and can embrace without hesitation!
Let's not allow budding trees or baby chicks to distract us this Easter. When we see these new things, let's turn our thoughts to the One who makes all things new.
What new thing is the Lord doing in your life this spring?
Shared at the following link parties:
Coffee and Conversation, Grace and Truth, Living Proverbs 31, Titus 2 Tuesday, and Word Filled Wednesday.