As far as snacks go, traditional Rice Krispies Treats® aren't that terrible for you, but they're not exactly good for you, either! I was looking for something to snack on a few days ago and improvised to create a slightly more nutritious version.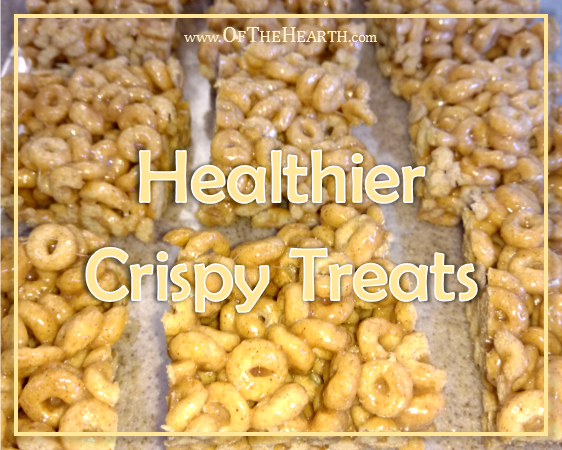 After making (and falling in love with) these, I did some searching and found that a number of cooks have shared their own takes on healthier crispy treats. I've included links to several of these recipes at the end of this post. First, though, is my impromptu, but amazingly delicious version.
Ingredients
4 tablespoons butter
4 tablespoons almond butter
1 teaspoon vanilla extract
1 package (10 oz.) marshmallows
6 cups toasted oats cereal (like Cheerios®)
Instructions
In a large saucepan, melt the butter over low heat. Add in the almond butter and vanilla; stir until the mixture is uniform in appearance. Add the marshmallows and stir until completely melted. Remove from the heat.
Add in the toasted oats cereal and stir until well coated.
Using a buttered spatula, evenly press the mixture into a greased 13 x 9 x 2-inch pan. Allow to cool, then cut into 24 squares. Best if consumed within 2 days of being prepared.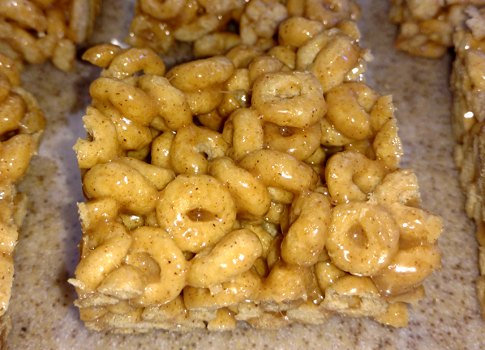 Notes
The almond butter gives these a light nutty flavor that is just delightful! Honestly, I think they are much tastier than the original version of the treats. They don't last long in my house and I recently took a batch to a potluck dinner where they also disappeared quickly.
Like I indicated earlier, these aren't exceptionally healthy, but they do contain more protein and fiber than original Rice Krispies Treats®. If you're interested in exploring crispy treat recipes that may be even more nutritious, check out some of the ideas below:
Does your family like crispy treats? What's your favorite way to prepare them?
Shared at the following link parties:
Weekend Wind Down, Small Victories Sunday, Making Your Home Sing, The Art of Home-Making, Monday's Musings, Titus 2 Tuesday, Tuesdays with a Twist, Think Tank Thursday, Weekend Potluck, and Share the Wealth.
Save
Save
Save
Save
Save
Save
Save
Save
Save