On Thanksgiving Day around here, no one wonders how many calories are in the sweet potato soufflé or if the rolls were prepared with whole wheat flour. What my family members want to know is what time dinner will be served and what flavors of pie were prepared for dessert.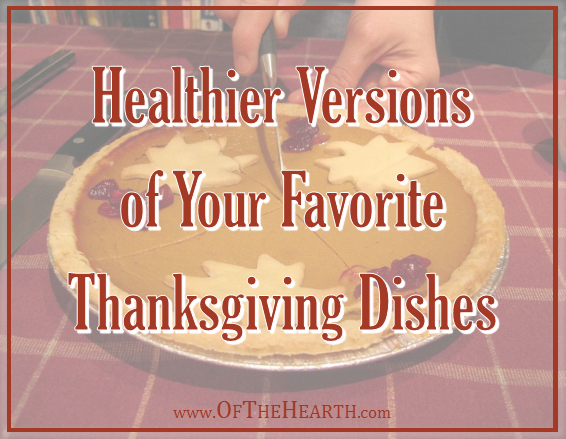 However, just because Thanksgiving is a day for feasting doesn't mean we can't still be nutrition-conscious. The following recipes are perfect examples that we don't have to compromise flavor when preparing healthier versions of Thanksgiving favorites.
What constitutes "traditional" and "favorite" varies by region, culture, and individual preference. Rather than trying to be inclusive (and writing a ridiculously long post), I'm going to consider the following common dishes to be traditional favorites:
Turkey and dressing (or stuffing)
Sweet potato casserole or soufflé
Mashed potatoes and gravy
Green bean casserole
Macaroni and cheese
Pies
Healthier versions of traditional Thanksgiving foods
Turkey and dressing (or stuffing)
Turkey is typically the centerpiece of Thanksgiving dinner. Roasted turkey is relatively healthy, so I won't recommend alternatives to it. However, the same can't be said for deep-fried turkey, so stick to the roasted varieties.
There are so many ways to make dressing or stuffing that it is inaccurate to say that all varieties of it are unhealthy. However, many traditional versions are high in calories, carbs, fat, and sodium. For a more nutritious option, try one of the following,
Sweet potato casserole or soufflé
Many of us prepare sweet potato casseroles or soufflés that are more like desserts than side dishes. I love butter and brown sugar as much as the next person, but I also think some of these healthier methods of preparation would be tasty.
Mashed potatoes and gravy
There's nothing wrong with an occasional serving of mashed potatoes that are rich and creamy due to a large dose of butter and cream. However, a few small changes can make these significantly more nutritious.
Green bean casserole
Green bean casserole is a vegetable side dish, so it can't be that bad…right? If you make a popular variety that contains lots of butter, preservative-laden canned cream of mushroom soup, French fried onions, and/or cheese, then I think you know the answer!
Macaroni and cheese
Macaroni and cheese is very high in calories and contains limited nutrients. Given how much my family loves it, we could really benefit from these healthier versions.
Pies
I know that it's pretty audacious of me to rip on Thanksgiving pies, but many of them could be prepared in more healthy manners. Most are packed full of sugar and/or corn syrup. A few small tweaks and these lose some of the sugar, but keep all of the flavor.
I can't wait to try some of these! Do any sound good to you? How do you prepare a healthier version of your favorite Thanksgiving dish?
Shared at the following:
Monday's Musings, Tuesdays with a Twist, Coffee and Conversation, and The Art of Home-Making.
Save
Save
Save
Save
Save
Save
Save
Save
Save
Save