I typically avoid purchasing convenience foods because they are pricy both in terms of their monetary cost and in terms of the toll they take on health.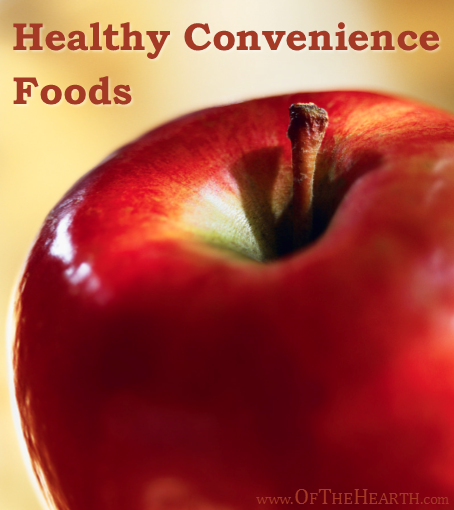 We all experience busy seasons (such as after the birth of a baby) where convenience foods can help us preserve our sanity. Are there any convenience foods that can be considered healthy? Check out these ideas.
Healthy convenience foods
Hardboiled eggs

. Eggs are very affordable and nutrient dense. Hardboiled eggs can be safely stored in the fridge for a week, so boil a dozen and enjoy this protein-packed food at any meal. Hardboiled eggs make a great on-the-go breakfast or snack. They can be sliced and served over lettuce-based salads or chopped and used in tuna or chicken salad. The possibilities are endless.

Fresh fruits

. Many fresh fruits epitomize convenience. How easy is it to strip a banana of its peel? How easy is it to wash and bite into an apple or pear? Fruits canned in 100% juice are another good option.

Bagged salads and prewashed, precut produce

. Most grocery stores carry a wide variety of bagged salads and various fruits and vegetables that have been washed and cut. These can save you a lot of prep work and are versatile. Eat the salads on their own or use the greens to top sandwiches, fill wraps, or stuff tacos. The fruits and veggies can be used in salads or they can be eaten as a side dish with a meal or on their own as a snack.

Jarred spaghetti sauces

. Many jarred spaghetti sauces are comprised of pureed tomatoes, olive oil, and various herbs and spices. Some have lots of sugar or unhealthy oils, but if you check the ingredients and avoid these, spaghetti sauces can be used to create a variety of nutritious pasta dishes.

Peanut butter and other nut butters

. Peanut butter is a staple in many American pantries. If you choose nut butters that are free of sugar, corn syrup, hydrogenated oils, and other fillers, then they can be used as a protein-rich component of any meal. Add a nut butter to your breakfast oatmeal, spread it on toast for a snack or on bread for a lunch sandwich, or use it in a sauce or soup for dinner.

Quick cooking brown rice

. Long grain rice is not something you want to take the time to prepare if you are short on time. However, instant (parboiled) brown rice takes less than 15 minutes to prepare. Prepare the rice in broth and season it to make a simple but tasty side dish or top it with stir fry, soup, beef tips in gravy, or any number of other entrees.

Yogurt cups

. Yogurt cups make a quick and easy breakfast or snack. Not all yogurt cups are created equal, though. In order to make sure this convenience food remains healthy, choose those that don't contain artificial sweeteners, artificial food dyes, or lots of added sugars.

Dried fruits and nuts

. Dried fruits and nuts taste great and make super handy snacks because they require no preparation. Take some with you when you head out because small boxes of raisins or small baggies filled with nuts and/or fruits transport easily and don't have to be refrigerated.

Sliced cheese or cheese cubes

. Purchasing cheese that is already sliced or cut into cubes can save quite a bit of time and elbow grease. Keep in mind that I'm talking about real cheese here, not processed cheese products. Cheese cubes make great snacks or appetizers. They can also be used to top salads. Slices of cheese can quickly be added to sandwiches or melted atop chicken breasts or burgers.

Oatmeal packets

. Oatmeal is pretty easy to prepare, but if you're exceptionally busy or if you have a house full of visitors with differing taste preferences, it can be useful to utilize instant oatmeal packets. Take a peek at the ingredients and avoid those that contain things like lots of added sugars or food dyes (these are more common in varieties geared towards children).
What foods have I overlooked? What healthy convenience foods do you like to purchase?
Shared on the following link-ups: