You, the readers who comprise the community here at Of The Hearth, often ask thought-provoking questions in your comments and emails. It's likely that these questions are shared by many readers, so I've decided to answer some in posts. I hope you will contribute by adding your input in the comments!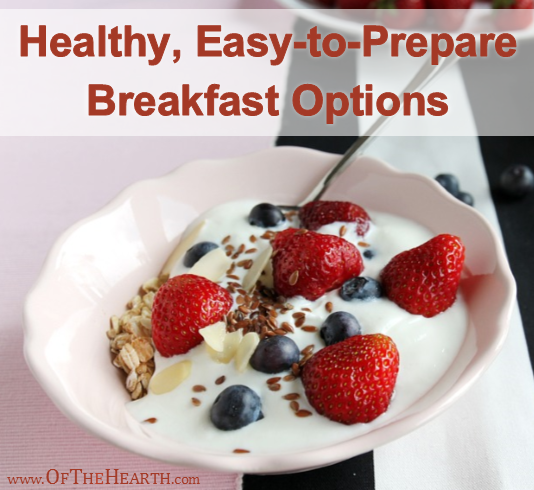 Leslie in Florida asked the following:
I have four children, so my home is a busy place. I know you've said before that you try to avoid feeding your family processed sugary cereals, but what are some other breakfast options that don't take long to prepare? I've looked at a couple of your breakfast recipes, but they are things that must be prepared ahead of time. What healthy options are there that can be prepared quickly on the mornings they will be eaten?
I first discussed breakfast cereals in August of 2013 in the Cereal Killers post. In short, many boxed breakfast cereals are so packed with sugar that you might as well be eating a cupcake for breakfast. One way I avoid feeding these to my family is by preparing and freezing breakfast foods (e.g., mini breakfast stratas, honey wheat butterhorns) when I have time so I simply have to reheat them on busy mornings.
As Leslie noted in her question, you have to have some time available to prepare the foods ahead of time if you are going to use this approach. She doesn't have this time, so she needs healthy breakfast options that can be prepared quickly for immediate consumption. What foods fit this bill? Here are a few ideas.
Healthy, easy-to-prepare breakfasts
Oatmeal.

Oatmeal makes a fabulous breakfast! It is incredibly nutritious and takes only minutes to prepare. You can dress up oatmeal with dozens of different toppings (click here for ideas).

Toast.

With a little creativity, you can transform toast—a bland breakfast staple—into an exciting feast. You can stick with traditional toppings such as jam or peanut butter and banana. You can get a little adventurous and try toppings like cashew butter and honey or cream cheese and thinly sliced pears. You can also get really adventurous and give toppings like mashed avocado or ricotta cheese and sun-dried tomatoes a try. If you have a little extra time, try whipping up cheesy baked egg in toast (it's a favorite of mine). The possibilities are limitless!

Eggs.

It only takes about 15 minutes to prepare hardboiled eggs. If you can manage this as you go about your morning tasks, then you can prepare these for a tasty, protein-packed breakfast. Scrambled eggs or fried eggs are great options, too. They only take a couple of minutes to prepare and can be seasoned and topped in diverse ways.

Yogurt and fruit.

A bowl of yogurt topped with fruit helps you start the day with protein and vitamins. Be sure to choose yogurts that don't contain artificial sweeteners, artificial food dyes, or lots of added sugars. Add chopped nuts for additional flavor, texture, and nutrients!

Healthier boxed cereals.

Not all boxed cereals are packed with sugar. According to the Environmental Working Group, the following cereals are decent options: Quaker Oats Oatmeal Squares Cinnamon, Post Shredded Wheat, Post Grape-Nuts Flakes, Kellogg's Mini-Wheats, General Mills Cheerios Original, General Mills Kix Original, and Post Honey Bunches of Oats with Vanilla Bunches.
I hope a couple of these ideas work for you and your family, Leslie!
Do you have additional ideas? Please use the comments section below to share them with Leslie (and the rest of us who face busy mornings).
Shared at the following link parties:
WholeHearted Wednesday, From House to Home, Shine Blog Hop, Inspiration Spotlight, Weekend Wind Down, Making Your Home Sing, and Coffee and Conversation.