We're about to spend three long days on the road as we move across the country. I find it challenging to be cooped up in the car for long periods of time like this, but snacks somehow make the experience more tolerable.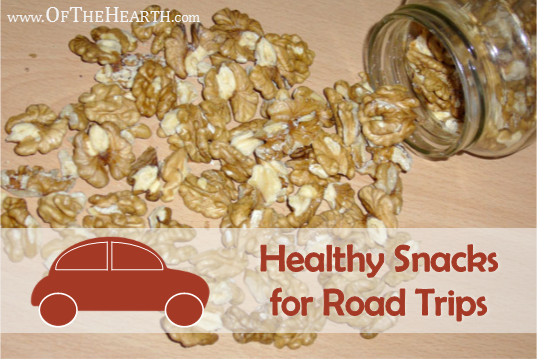 Instead of absentmindedly consuming tons of high-fat, high-sugar, and/or high-sodium snacks, I'm identifying and preparing to take some healthier options.
Healthy road trip snacks
Popcorn
Why: Popcorn is a great choice when you're craving something salty and crunchy like potato chips. Unlike chips, popcorn contains antioxidants and is very low in calories and fat.
Notes: It's healthiest to avoid butter-drenched "movie theater" varieties or those popped in pre-sealed microwave popcorn bags. Prepare popcorn in an air popper or on the stove instead.
Fruits and veggies
Why: Fruits and vegetables contain a lot more vitamins and minerals than typical snack foods. Many varieties, including bananas, apples, cherry tomatoes, and carrot sticks, can be transported and eaten easily while driving or riding. Additionally, fruits and veggies contain a lot of water, so they'll help keep you from getting dehydrated while sitting in the car all day.
Notes: Types of produce that don't have to be peeled or are easy to peel and don't have to be sliced work best (e.g., bananas, apples, grapes, pears, cherry tomatoes, sugar snap peas). Fruit cups (where the fruit is packed in juice, not syrup) are another good option.
Dried fruit, nuts, or trail mix
Why: Dried fruit will satisfy your sweet tooth, nuts will quench a craving for salty and crunchy foods, and trail mix is an excellent mix of sweet, salty, and crunchy. All of these contain more nutrients than candy bars or fruit-flavored candies.
Notes: Keep an eye on how much you eat because fruits are high in natural sugars and nuts/trail mix are high in calories. Even though they are good for you, you still need to eat in moderation.
Cheese or yogurt
Why: It's often hard to consume recommended amounts of dairy while traveling. Snacking on cheese and yogurt will help you do this. The protein in these foods will help satisfy your hunger and cheese provides a savory alternative to the many snack foods that are sweet.
Notes: Yogurt cups or sleeves (choose those that don't contain artificial sweeteners, artificial food dyes, or lots of added sugars) and cheese cubes or pre-sliced cheese are pretty easy to transport and consume while traveling.
Granola bars or energy bars
Why: Granola bars and energy bars are very easy to transport because they are individually wrapped and their shape makes them easy to eat while driving or riding. They are heartier than many snack foods, so they'll genuinely satisfy your hunger.
Notes: Many granola and energy bars are so packed full of sugar that they are about as healthy as a candy bar, so be sure to look for those that are high in fiber and protein, but low in sugar.
Hardboiled eggs
Why: Eggs are super affordable (about 15 cents each) and, though they're only 70 calories a piece, they are packed with high quality protein and antioxidants. They're not messy to eat and they'll satiate your hunger.
Notes: You can peel your hardboiled eggs before you leave on your trip so you don't have to worry about doing this in the car. Just place the peeled eggs in a zipper baggie or food storage container that you keep cool in a cooler.
What additional ideas do you have? What are your favorite snacks to take on road trips?
Shared on the following link-ups:
Weekend Wind Down, Summer Family Fun, WholeHearted Wednesday, The Art of Home-Making, Monday's Musings, and Making Your Home Sing.