Last week I had one of those days. You know what I'm talking about, right? A day when everything that could possibly go wrong did.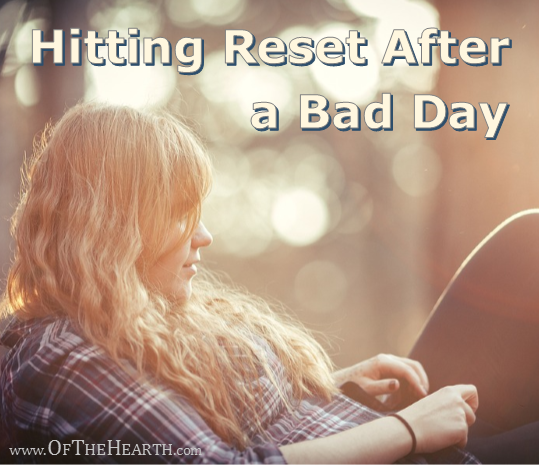 That night, as I sat nursing my infant before going to sleep, I silently rejoiced that the Lord promises us new mercies each day (Lamentations 3:22-23). As assuring as this promise is, sometimes meditating on it is not quite enough to brighten my outlook and reinvigorate my efforts to complete the tasks before me with excellence.
When I feel this way, I've found it helpful to do some practical things. Would these also be of help to you when you try to reset after a rough day?
How to reset after a bad day
Pray, read the Bible, and worship
I know that many of you are rolling your eyes because you think this is a pretty cliché statement. It's true, though, isn't it? We should pray, read Scripture, and worship in response to every situation we face, including bad days. The Bible itself addresses this:
"Cast all your anxiety on him because he cares for you." 1 Peter 5:7
"For we do not have a high priest who is unable to empathize with our weaknesses, but we have one who has been tempted in every way, just as we are—yet he did not sin. Let us then approach God's throne of grace with confidence, so that we may receive mercy and find grace to help us in our time of need." Hebrews 4:15-16
"Rejoice always, pray continually, give thanks in all circumstances; for this is God's will for you in Christ Jesus." 1 Thessalonians 5:16-18
"Through Jesus, therefore, let us continually offer to God a sacrifice of praise—the fruit of lips that openly profess his name." Hebrews 13:15
When I stop seeing these activities as a "Sunday school answer" or a platitude and actually put serious effort into them, I find that they are the single most effective way for me to gain a right perspective and be refreshed.
Exercise for a few minutes
Bad days often leave us feeling down, stressed out, and uncertain of our abilities. Endorphins (chemicals that interact with receptors in the brain) counteract these feelings by reducing pain and creating feelings of euphoria. Exercise causes the release of endorphins, making it a great way to reset after a rough day (source). Personally, I find it difficult to squeeze in exercise at the end of the day when I'm getting a toddler and a baby put down to bed, but I can often find time to do something quick and easy like stretching or taking a short walk.
Write in a journal
Journaling can help us understand and cope with the things that have happened during our days. There are three particular types of journaling that I have found to be beneficial.
Gratitude journaling.

Few things get my mind off of the negative like taking time to reflect on the good things in my life. Writing down a few things for which I am grateful is often enough to liven my mood and get me thinking positively.

Documenting worries.

I'll turn worries over and over in my mind until I feel overwhelmed and can't sleep. If I simply take time to write these down on paper and plan to address them later, then I'm often able to stop thinking on them and get some rest.

Planning how to do things differently.

I don't want to repeat whatever things went poorly and created the bad day I've experienced. Writing out a plan for how to do these things differently helps me be equipped to face tomorrow's challenges.
Get some sleep
When we're tired, negative situations seem so much worse than they really are. Subsequently, simply getting some rest can improve our perspectives (not to mention it helps us feel rested and energized). Because sleep is so beneficial, I try not to get carried away with any of the activities listed above. I've also found it helpful to avoid using my smartphone or a computer as bedtime nears because the light from the screens of these devices can interfere with sleep (source).
Start the next day off right
When our alarms sound the morning after a bad day, we have the opportunity to start our new day off right. What is "right" will look a little different for all of us. For me, it means getting up the first time my alarm goes off, spending time with the Lord, eating a healthy breakfast, and a couple of other activities. Read more about what constitutes a good start to my day here.
Stopping a bad day in its tracks
The more I use these strategies to reset after a hard day, the more I see how they can be used throughout the course of the day to stop a bad day in its tracks. The only thing I can't do is turn back time in order to start the day off right. However, I can:
Pause in the middle of the chaos and pray. Even better, I can grab the hands of my children and pray with them.
Get a little exercise (even if this just means running up and down the stairs a couple of times). As with prayer, I can get my kids involved in this.
Journal for a few minutes.
Take a brief nap while my kiddos nap.
How do you respond when you have bad days? What practical things do you do to reset after them?
Shared at the following:
Coffee and Conversation, Monday's Musings, The Art of Homemaking, Faith Filled Wednesday, and Grace and Truth.
Save
Save
Save
Save
Save
Save
Save
Save
Save