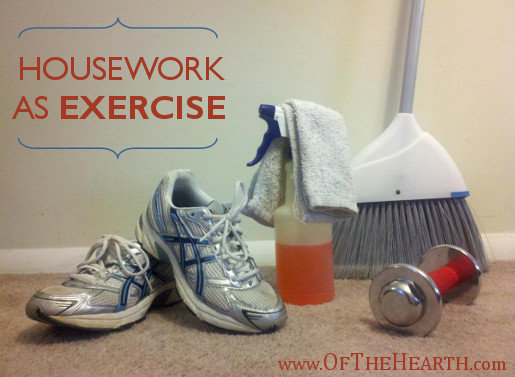 I'm motivated to maintain my house and keep it clean for a number of reasons: stewardship, comfort and safety, the look and feel of clean surfaces, creating a warm environment for guests, etc. Now I can add physical fitness to the list. According to the National Heart, Lung, and Blood Institute, many housekeeping activities constitute moderate-intensity physical activity. (Given how out of breath I get while vacuuming the stairs, I'm convinced some housework borders on high intensity!) As you may recall, experts recommend that adults get a minimum of 30 minutes of moderate-intensity aerobic activity at least 5 days each week. While I won't try to fool myself or anyone else into thinking housework is sufficient for exercise, it is a useful way to supplement other exercise activities.
Calories burned doing housework
WebMD has a great Fitness and Calorie Calculator to help users estimate how many calories they burn while engaging in various activities. Here are some estimates for a 150 lb. adult:
Duration              Activity                          Burns
15 minutes          washing dishes             39 calories
15 minutes          light dusting                  43 calories
20 minutes          folding clothes              45 calories
25 minutes          washing a car                85 calories
30 minutes          vacuuming                    119 calories
30 minutes          cleaning gutters           170 calories
30 minutes          mowing the lawn         187 calories
Turning up the intensity
A number of strategies can be used to increase the intensity of housework, thereby increasing the physical fitness benefits.
Move quickly

. Whether you are dusting, raking leaves, or washing the car, speeding up your pace will increase your heart rate and burn more calories.

Play upbeat music

. While this will not increase the intensity of housework by itself, it may motivate you to move at a fast pace.

Use varied movements

. While cleaning surfaces (dusting, scrubbing the tub, etc.), wipe faster and farther than you normally do. Intersperse these motions with small, rapid back-and-forth movements. These varied movements will use more muscles than used when you clean with a single motion. (Be sure to use both arms, not just your dominant one!)

Take advantage of natural pauses in your work

. Do a few squats or lunges when you pause to rinse out the mop or to move between pieces of furniture while dusting.

Try not to be still when standing in one place

. Do calf raises while you stand to wash the dishes or fold laundry. If you're really coordinated, you can try marching in place. (I can't manage to keep up with the task at hand if I do the latter!)
Check with your doctor if you're unsure if it's safe for you to exercise. Also, if you're really going to get into a housework workout, take time to warm up and stretch as you begin.
There's a lot of room for creativity when it comes to increasing the intensity of housework activities. What ideas do you have?
Shared on the following link-ups:
From House to Home, Making Your Home Sing, Thrive @ Home, Works for Me Wednesday & Domestically Divine Tuesday.