By the time most children enter toddlerhood, they've tasted enough flavors to realize that some foods taste a lot better than others! This, combined with their inability to sit still for long periods of time, often turns toddlers into picky eaters.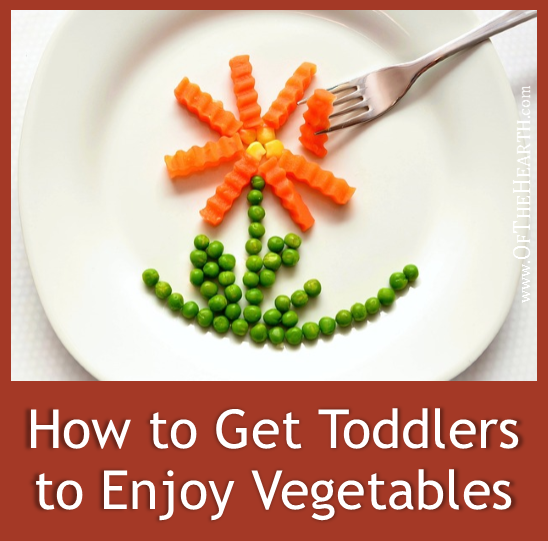 Vegetables are frequently the first foods toddlers reject. These are so important for their health, so how can we foster their appreciation for veggies? Here are the strategies we're using in my household.
Getting toddlers to enjoy their veggies
Top veggies with seasonings and sauces.

Vegetables often taste best when seasoned! We love to jazz up their flavor by sautéing them in butter and garlic or sprinkling them with salt and pepper. We've also been creative with other seasonings (onion powder, cumin, paprika, oregano, etc.). My daughter's absolute favorite topping, though, is cheese! Sometimes we sprinkle vegetables with shredded or grated cheese (parmesan, cheddar, etc.) and sometimes we use a delicious homemade cheese sauce (see the recipe here).

Make veggie-rich sauces, casseroles, and meatloaves.

Pureed vegetables (carrots, sweet potatoes, cauliflower, squash, etc.) add nutrients to sauces, casseroles, and meatloaves. I'll use a small amount of puree if I want the veggie to go unnoticed or a large amount of puree if I want to add flavor to the sauce or dish.

Add veggies to breakfast foods.

Numerous vegetables go well in pancakes. Simply add pureed or grated veggies such as sweet potatoes, carrots, and zucchini to pancake batter. Vegetables also complement eggs. Add onions, peppers, spinach, and mushrooms to make yummy, colorful egg omelets and similar dishes. These mini breakfast stratas, which are the perfect size for toddlers, are a favorite in my house!

Use veggies in place of grains.

My daughter recently went through a phase where she was refusing squash (something she loved as an older infant). However, when I used spaghetti squash in place of pasta, she loved it! Julienned zucchini makes a similar substitute. I've also had success making a rice substitute by pulsing cauliflower florets in a food processor.

Make veggie-rich pizzas.

Pizza is a favorite of most children. My toddler is no exception—she loves pizza! Fortunately, many vegetables go well on pizza: tomatoes, spinach, peppers, onion, mushrooms, artichoke, eggplant, etc. Vegetables, including cauliflower, can even be used to make pizza crust.

Include veggies in smoothies.

When blending smoothies, I try to toss in some vegetables (kale, spinach, carrot, etc.). These veggies typically don't change the flavors of the smoothies, but they add nutrients.

Dip sliced veggies.

Sliced vegetables with flavorful dips (hummus, salad dressing, peanut butter, yogurt, etc.) make great snacks or side dishes for toddlers. Tasty dips help make less popular veggies more palatable!

Present veggies in fun ways.

With a little creativity, we can serve veggies in ways that are visually appealing. Hollowed out cucumbers or zucchini filled with chicken or tuna salad make cute "boats." A variety of sliced veggies can be arranged on plates to make fun faces. Celery sticks filled with peanut butter and topped with raisins combine to make a treat commonly known as ants on a log. The possibilities are endless!

Involve toddlers in meal prep.

There are many age-appropriate ways that toddlers can help in the kitchen (stirring batter, washing lettuce, scrubbing potatoes, etc.). Sometimes toddlers are more interested in eating their meals, including vegetables, after they've had a hand in preparing them.

Model healthy eating habits.

Children learn by watching us. If we grumble about eating our vegetables or only eat a few varieties, then how can we expect our toddlers to do any differently? It's critical that we enthusiastically eat a variety of vegetables so our toddlers will do likewise.

Keep offering a variety of veggies.

One week my daughter will want peas every day and the next week she won't touch them. If I stopped offering them after one of these pea strikes, then she'd miss out on a lot of opportunities to eat this nutritious food. Though your toddler may have rejected a particular veggie every time you've offered it, I encourage you to keep trying. He or she may refuse peas (or carrots, lima beans, etc.) today, but eat them by the fistful tomorrow.
What has been your experience with getting toddlers to eat vegetables? What strategies work for your family?
Shared at the following link parties:
Living Proverbs 31, Making Your Home Sing, Weekend Wind Down, Shine Blog Hop, From House to Home, Think Tank Thursday and Coffee and Conversation.