The current political scene in the U.S. is unlike any I've seen before. Candidates and issues are garnering unprecedented amounts of attention.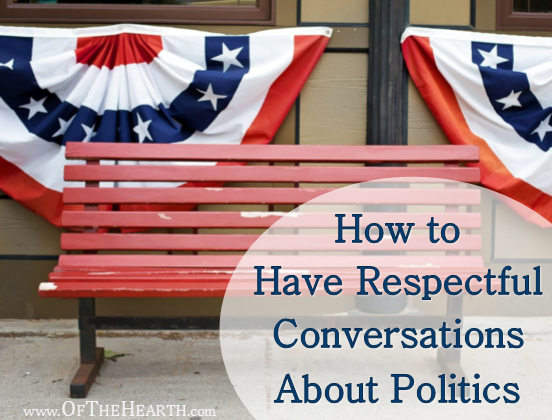 Regardless of if you are liberal or conservative, it's likely you will find yourself discussing some political issue with family members or friends in the coming months. Here are some great things for all of us to keep in mind so these discussions remain respectful and productive.
Guidelines for discussing politics
Share your thoughts in order to benefit those who listen.

We have a lot of different motivations for engaging in political discourse. We need to check these motivations to make sure they are appropriate. The Bible teaches that we should share helpful things that build up and benefit the listener (Ephesians 4:29). This means that sharing in order to express anger, to show others that they are wrong, or to make ourselves sound smart is inappropriate.

Take time to listen.

As we share with the right motivation, we also need to take time to listen (James 1:19). When we listen, it demonstrates that we are humble and that we care about the perspectives of others. Additionally, we might learn and become wiser as a result of the things we hear (Proverbs 19:20).

Assume that people have good reasons for holding their opinions.

When we give people the benefit of the doubt, it is so much easier to tolerate their divergent opinions. This doesn't necessarily mean that we begin sharing their opinions, but it does mean we can be respectful of them and understand their perspectives. Once we have this understanding, we are often able to engage in conversations that are more productive and meaningful.

Remember that there is a difference between an issue and the people who support it.

It's easy to have similar feelings towards an issue and the people who support it. For example, we may begin feeling similar disdain for the supporters of abortion that we feel for the practice of abortion. We shouldn't let this happen. We must always love people (Matthew 22:35-40), even if we disagree with their stances on certain issues.

Don't pass along information unless you know it is true.

The spreading of rumors and misinformation by well-meaning and sometimes malicious individuals seems to be an inevitability during political campaigns. Before I share that blurb that came across my Facebook newsfeed or you share that tidbit you overheard at work, we need to check to see if they are accurate. This not only keeps us from looking like fools if the information turns out to be false, but it helps us obey the Biblical teaching to avoid spreading false reports (Exodus 23:1).

Know when to stop the conversation.

Just because you are following these guidelines when discussing politics doesn't mean you are conversing with someone who is using a similar approach. He or she may be disrespectful and unwilling to engage in meaningful discourse. When this occurs, sometimes the best thing to do is to agree to disagree and then move on. This may save you a lot of time and frustration!
Do you think these are helpful things to remember when discussing politics? What would you add?
Shared at the following link parties:
Monday's Musings, Tuesday Talk, Coffee and Conversation, Faith Filled Wednesday, Grace and Truth, and Titus 2 Tuesday.