My toddler has a bit of a love-hate relationship with her toothbrush. She enjoys chewing on it and sucking training toothpaste off of it, but she's generally displeased with it when I use it to scrub her teeth.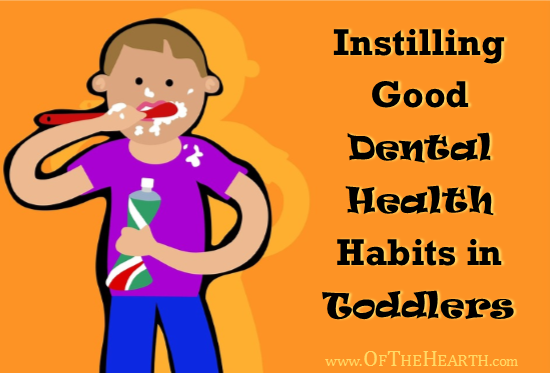 Though brushing her teeth can be an ordeal, I do it twice each day because I want her to have healthy teeth.
What must we do to help our toddlers have healthy teeth today and—just as importantly—develop good dental health habits for tomorrow?
Dental hygiene recommendations for toddlers
The following is a summary of the American Dental Association's recommendations for dental hygiene in toddlers:
Each child should have an initial visit with a dentist no later than his or her first birthday. Regular checkups, at intervals recommended by the dentist, should follow.
Parents should brush their toddler's teeth twice each day with a child-size toothbrush.
From the time the first teeth erupt until children reach age 3, parents should use a smear (the size of a grain of rice) of fluoride toothpaste when brushing. (Please note that some experts recommend using fluoride-free or training toothpaste until a child is age 2. You can discuss the pros and cons of fluoride-containing toothpastes with your doctor or dentist.)
For children over age 3, parents should use a pea-sized amount of fluoride toothpaste when brushing.
Once a toddler has two teeth that touch, parents should begin flossing the child's teeth daily.
Toddlers should not be sent to bed with bottles or cups of juice, formula, or milk. Likewise, they should not consume these beverages all day long. They should only drink them for short periods of time so their teeth are not constantly exposed to the sugars in the drinks.
Children should be discouraged from using pacifiers, sucking their thumbs, and using sippy cups by age 2 or 3.
How to encourage toddlers to care for their teeth
Though they are young, there are many things we can do to help our toddlers care for their own teeth.
Go shopping for a toothbrush and toothpaste
Young children get excited when they get new items, even when these items are a toothbrush and toothpaste. Thus, we foster enthusiasm for tooth brushing when we make a show of getting a new toothbrush and toothpaste. It can be even better to let our toddlers select their own!
Use a tooth brushing song
Using a song like the one featured below helps our toddlers learn to brush their teeth independently. You can hear additional tooth brushing songs here.
Read books about dental health
We can help our toddlers understand the details of new tasks and experiences by reading to them from books about these topics. You'll find numerous books on tooth brushing at your local library or bookstore and on Amazon. Here are two of our favorites (affiliate links):
Complete dental health activities
We can use crafts and similar activities to stimulate our toddlers' interest in brushing their teeth. Here are some that look fun:
What things do you do to help your toddler have healthy teeth? Share your strategies with us!
This post contains affiliate links. Click here to read about what this means.
Shared at the following:
Coffee and Conversation, The Art of Homemaking, and Shine Blog Hop.
Save
Save
Save
Save
Save
Save
Save
Save
Save
Save
Save
Save