Last week I got a new clothing item for my daughter. This was a unique item (ScratchSleeves), so I wanted to be sure I didn't damage it when I washed it. Unfortunately, I was very confused by the laundering instructions provided with the item: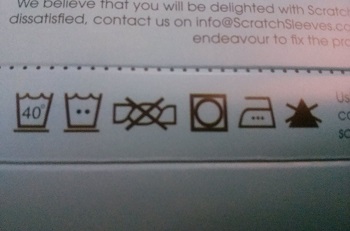 I had to search a bit, but I figured out what all these symbols mean. There are actually a host of laundry care symbols! Here's a summary:
(Click on the image to view and download a larger, printable version of the guide.)

The FTC has allowed clothing manufacturers to use symbols instead of written instructions on garment care labels since 1997. These symbols are supposed to be simple and easy to learn, providing a common language across manufacturers and making it easy for consumers to understand how to care for their clothing.
Clearly it wasn't easy for me to understand the instructions previously, but it will be now that I have this chart! For additional information on laundry care symbols, visit my sources (here and here).
Do you wash your clothes according to the instructions provided on their labels?
Shared on the following link-ups:
Motivation Monday, Thriving on Thursdays, One Project at a Time, Teach Me Tuesday, Frugal Crafty Home, Living Proverbs 31, Making Your Home Sing, Saturday Soiree, Inspiration Spotlight, Creativity Unleashed, Shine Blog Hop & Think Tank Thursday.