It seems like just yesterday that my oldest child was born. However, she's about to become a three-year-old!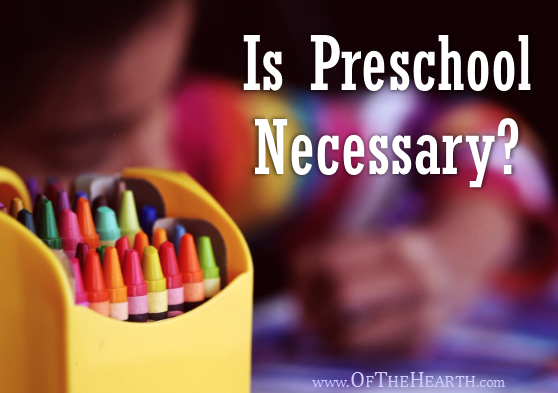 I've noticed that many children her age are beginning preschool programs. Some of these are very formal programs, while others are traditional childcare with a special focus on school readiness skills.
Does my child need preschool, too? In order to answer this question, I began reading about the purpose of preschool and its impacts.
Do children really need preschool?
Most preschool programs seek to give children the foundation they need to be successful in school. The things children learn in preschool include pre-reading skills (the alphabet, how to write their names, that there is a connection between letters and sounds, etc.), math skills (number recognition, counting, etc.), motor skills (cutting with scissors, drawing shapes, etc.), and social skills (sharing, following instructions, participating in group activities, etc.).
Researchers have long believed that preschool only benefits children from disadvantaged families (families living below the poverty line, children of parents who did not graduate high school, etc.). Preschool functions as an "equalizer," ensuring that children from disadvantaged families receive a few hours of high-quality interaction with adults each day, helping to even the developmental playing field (source). In other words, children of educated parents living above the poverty line don't need preschool because they have opportunities to learn the content taught in preschools at home.
Recently, though, reports from the National Institute for Early Education Research (NIEER) suggest that all students, regardless of socioeconomic status, benefit from preschool. This group has found that many kindergarteners lack school readiness skills, but that those who attended preschool adapt more successfully to the school setting.
Other researchers have found similar outcomes. Even among middle- and high-income families, children who were in preschool enter kindergarten with better pre-reading and math skills than those in other kinds of care or at home with parents (source). At first glance, it sure seems like preschool is beneficial, but if we look closely at the research, we can see that the benefits of preschool don't endure.
One federally funded study found that though preschool attendance is linked to better memory skills in third grade, these benefits shrink to insignificance in higher grades. Even when researchers single out high-quality preschools, the benefits still fade by the fifth grade (source). Some of the newest research available echoes the findings that preschool increases school readiness, but it also shows two alarming trends that haven't been seen before. First, by the time children who attended preschool reach the first grade, their attitude towards school deteriorates. Second, by the time these children reach the second grade, they preform worse on tests that measure literacy, language, and math skills (source). The researchers stated that these children are losing their enthusiasm for learning because they have been subjected to the same insipid tasks year after year.
I was quite surprised to read that there is one impact of preschool that appears to last even as the academic impacts fade. This impact is a modest increase in behavior problems. Sixth graders who spent a lot of time in childcare centers (including preschools) act up a bit more than other children, though their behaviors are still within the normal range (source).
Given the research findings on preschool are so varied, what's a parent to do? Come back next week and join me as we examine this question!
What do you think? Based on your knowledge and experience, do children really need preschool?
Shared at the following:
The Art of Homemaking, Friday Frivolity, and Coffee and Conversation.
Save
Save
Save
Save
Save
Save
Save
Save
Save
Save