Dishwasher rinse aid is a relatively new concept to me. I don't recall seeing or hearing about rinse aid products when I was a child, nor do I recall there being a special spot in the dishwasher where you were supposed to deposit one of these products.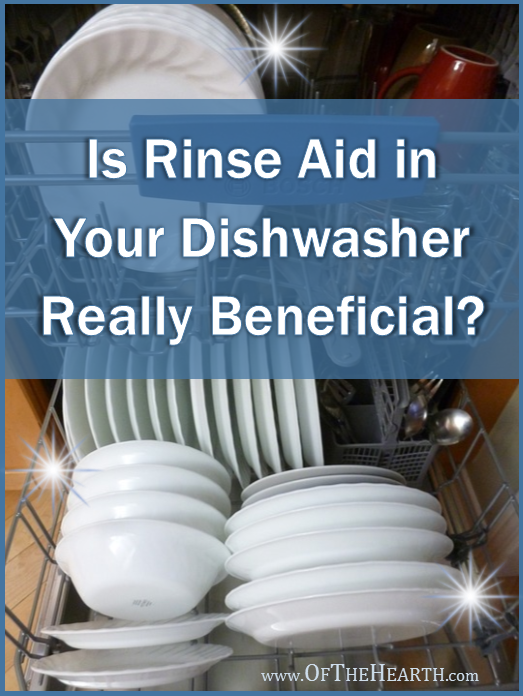 I've ignored the rinse aid reservoirs in the dishwashers I've had access to during my adult years until now. My husband and I recently bought appliances for our newly purchased house. I want our wonderful new dishwasher to function optimally, so I looked into rinse aids to see if I should be using them.
What is rinse aid?
Rinse aid is a surfactant. Surfactants are substances that reduce the surface tension of water. When surfactants are used in the dish rinsing process, they prevent droplets of water from forming, which speeds the drying process and makes dishes shine.
Are rinse aids beneficial?
There's no doubt that rinse aids can improve the appearance of dishes, so in this sense they are beneficial. However, when we consider what substances are being used to achieve this end, it becomes more complicated.
According to the Environmental Working Group (EWG), many brands of rinse aid contain ingredients that may be harmful to human health and the environment.
Antiredeposition agents

: These may cause cancer and have adverse effects on the respiratory, renal, and urinary systems. They are known for causing skin irritation, eliciting allergic reactions, and causing skin damage. They may also cause chronic aquatic toxicity.

Methylchloroisothiazolinone

: This is very toxic to aquatic life.

Oxybenzone

: This may have adverse effects on human development and on the endocrine and reproductive systems.

Sodium tripolyphosphate

: This is ecotoxic.

Troclosene sodium, dihydrate

: This may cause cancer and have adverse effects on the respiratory, endocrine, reproductive, renal, urinary, nervous, digestive, and integumentary systems. It may also cause chronic aquatic toxicity.
When we use rinse aids, these substances get into our water systems and we may ingest them when traces are left on our dishes.
Are there better alternatives to standard rinse aids?
Fortunately, not all rinse aids contain these potentially harmful ingredients. The EWG has identified three rinse aids that it believes are safe based on the data that is currently available: Ecover Rinse Aid, Seventh Generation Free and Clear Rinse Aid, and Nature Clean Rinse Aid.
Some people advocate using vinegar or hydrogen peroxide in place of rinse aid. While these products may help dishes come out looking clean, they do not truly function as rinse aids because they are not surfactants. If you want to try these, please check with the manufacturer of your dishwasher first to make sure they will not damage the dishwasher (e.g., vinegar is acidic and may harm dishwasher components that are exposed to it over time).
As you can see, rinse aid may be convenient in helping your dishes dry quickly and spotlessly, but it definitely isn't necessary. My family certainly has always managed to get by with some water spots on our dishes! If you want this benefit, then consider choosing a safer version for the sake of your family's health and the health of the environment.
Do you use rinse aid? Why or why not?
This post contains affiliate links. Click here to read about what this means.
Shared at the following link parties:
Monday's Musings, Titus 2 Tuesday, Tuesdays with a Twist, Tuesday Talk, WholeHearted Wednesday, Home and Garden Thursday, Healthy Living, Think Tank Thursday, Friday Frivolity, and The Art of Home-Making.