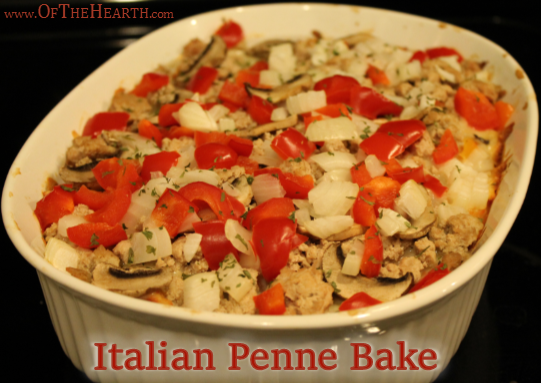 We eat spaghetti with meat marinara each month because it is an affordable and easy-to-prepare dish. When I saw a recipe for Spaghetti Pie on a fellow blogger's website (see the link below), I thought it was a neat alternative to traditional spaghetti with meat sauce. I made a couple of tweaks to the recipe (including changing the type of pasta used and the name of the dish) and we gave it a try. The results were fantastic!
Ingredients
(Adapted from this recipe at Gentle Joy Homemaker.)
4 cups penne pasta (precooked measure)
1 lb. ground meat (I used ground turkey)
1 (24 oz.) jar spaghetti sauce
2 cups shredded mozzarella cheese
1/2 of a bell pepper, chopped (use whichever color pepper you prefer)
1 small onion, chopped
2 white mushrooms, thinly sliced
Dried parsley flakes (optional)
Instructions
Preheat the oven to 350°F. Prepare the pasta according to the package instructions. While the pasta is boiling, brown the meat in a skillet over medium heat. Once the pasta is done boiling, drain it and return it to the pot in which it was cooked. Stir in the spaghetti sauce. Transfer the pasta and sauce to a lightly greased casserole dish.
Top the pasta with the mozzarella cheese, then sprinkle with the bell pepper, onion, and mushrooms. Add a light dusting of parsley flakes (if desired). Cover and bake for 30 minutes. Remove the cover and bake an additional 10 minutes. Yield: 5 servings.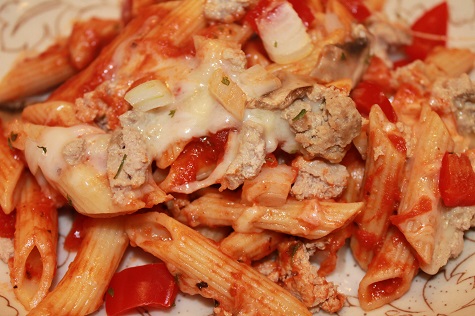 Notes
We really enjoyed this dish! The cheese and veggies on top of the bake added a little novelty to an otherwise familiar flavor. It was easy to prepare and would be a great dish for times when you need to prepare dinner ahead of time. Simply assemble the bake, cover it, and place it in the fridge. Then, when it's time for dinner, pull it from the fridge, let it warm up to room temperature, and bake. Because it is tasty, convenient, and affordable (see below), I may make this dish next time I need to feed a crowd!
Our taste buds approved of the dish and so did our budget: The ingredients cost approximately $8.27, which is just $1.65 per serving. If your family likes traditional spaghetti with meat sauce, then you'll definitely want to give this Italian Penne Bake a try!
Shared on the following link-ups:
Thriving on Thursdays, Weekend Potluck, Inspiration Spotlight, Think Tank Thursday, Not Just Homemaking Party, WholeHearted Wednesday, Teach Me Tuesday, Handmade Tuesdays and Monday's Musings.