This stew is another dish on my household's menu this spring. The recipe for it is an amalgamation of recipes I've come across for similar dishes. I love that it can be prepared using only one pot and that it contains numerous vegetables. Don't let the vegetables fool you, though—it is very filling and the taste of savory Italian sausage predominates.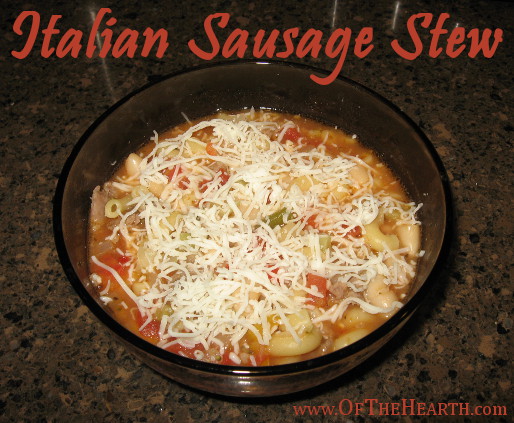 Ingredients
2 tablespoons sun-dried tomato vinaigrette (or vinaigrette dressing of your choice)
½ to 1 lb. Italian sausage
2 teaspoons minced garlic
2 cans (14 ½ oz. each) chicken broth
½ cup frozen broccoli, thawed and finely chopped
½ cup green, red, or yellow bell pepper, chopped
1 medium onion, chopped
1 can (15 oz.) cannellini beans, rinsed
1 can (14 ½ oz.) Italian-style diced tomatoes
1 cup elbow macaroni, uncooked
1 cup shredded mozzarella cheese (optional)
Instructions
Heat the vinaigrette dressing and garlic in a stockpot or Dutch oven over medium heat. Add the sausage and cook 8 to 10 minutes or until done, stirring occasionally to break it into small pieces.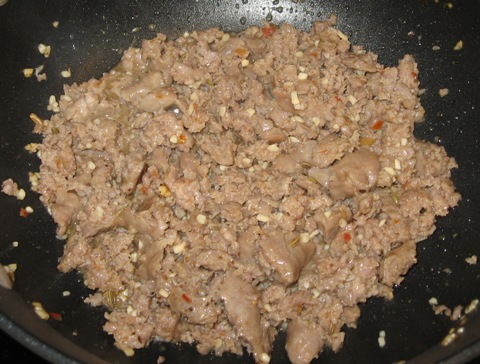 Add the broccoli, peppers, onion, beans, tomatoes, macaroni, and broth.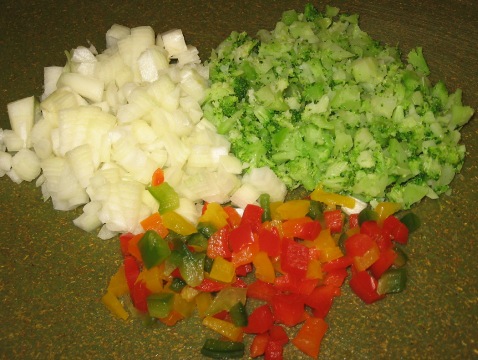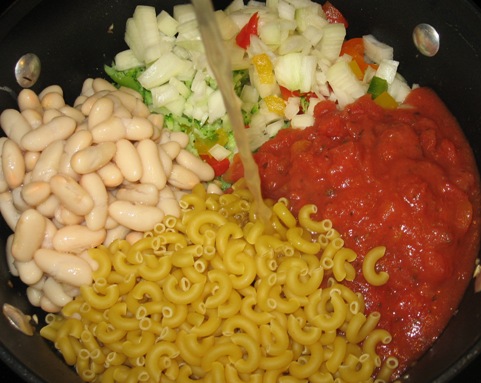 Increase the heat to a medium-high temperature and bring the stew to a boil. Once boiling, return the heat to medium and simmer for 10-12 minutes or until the macaroni is tender, stirring occasionally.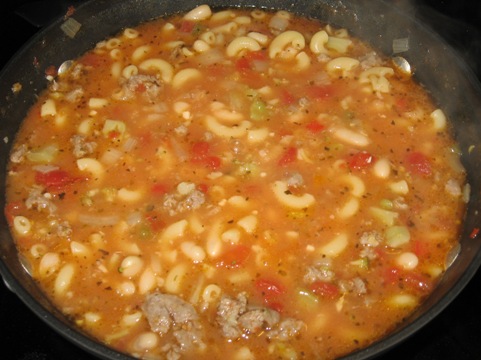 Garnish with mozzarella cheese, if desired. Yield: 4 servings.
Notes
We love the robust flavor of this dish! As you can likely tell from the pictures, I don't measure the vegetables precisely. Despite this, it always turns out well. I believe the same could be said if the broccoli or peppers were substituted with other vegetables. We usually consume large servings of the stew because we eat it by itself, so I indicated the recipe only yields 4 servings. If you serve it with something on the side (salad, bread, etc.), it will probably yield an additional serving or two.
The ingredients for the dish cost $7.39, which is $1.84 per serving (this price includes everything but the garlic, which is a staple in my house). This price is based on the dish being prepared with about ¾ pound of Italian sausage and consumed in four servings.
Sound good? Try it soon!
Shared on the following link-ups:
Weekend Potluck, Empty Your Archive, Hearts for Home, Wise Woman, Domestically Divine Tuesday & Living Proverbs 31.