I love it when my husband and I get to laughing about something. It just feels so good!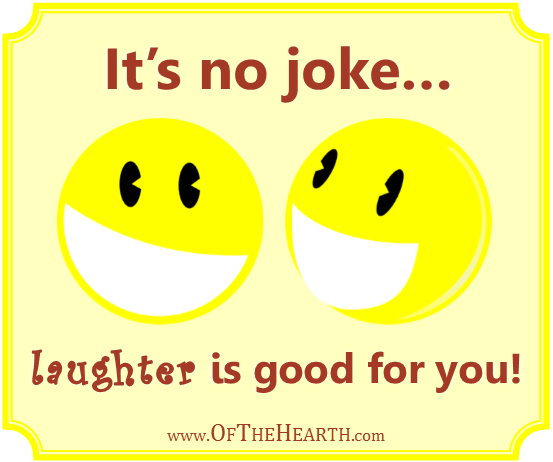 If you've laughed—really laughed—recently, then you know the positive, happy feeling I'm talking about.
It turns out that laughter has many incredible benefits beyond the temporary feeling of elation that it provides. Check out these benefits of laughter that have been identified by researchers.
Benefits of laughter
Stress reduction.

Laughter can reduce levels of several stress hormones (cortisol, epinephrine, DOPAC, and growth hormone). Moreover, it stimulates circulation and aids in muscle relaxation, both of which help reduce some of the physical symptoms of stress.

Improved immune function.

Positive thoughts spurred by laughter can trigger chemical reactions that boost the immune system. Specifically, researchers have found increases in the following immune system components: natural killer cells, IgA, IgG, IgM, Complement 3, activated T cells, B cells, and gamma interferon. These components serve many functions including the early recognition/removal of virus and tumor cells.

Pain relief.

Researchers aren't entirely sure why laughter helps relieve pain, but they have a few ideas. It is possible that laughter causes the release of endorphins, which are the body's natural painkillers. It's also possible that the act of laughing breaks the pain-spasm cycle that is common in some muscle disorders. If nothing else, laughter provides a pleasant distraction, drawing attention away from discomfort.

Memory improvement and increased creativity.

Humor or "getting a joke" uses several parts of the brain (e.g., language center of the left side of the brain, right frontal cortex where emotions and social memories are stored). There is increased blood flow to these brain regions when a person laughs. This stimulation may actually increase memory, learning ability, and creativity skills.

Improved mood.

Laughter provides a quick pick-me-up, which helps people cope with the challenges of life. It can lessen symptoms of depression and anxiety.

Increased aerobic exercise endurance.

Laughter provides a mini-workout for the body. A person's blood pressure and pulse will temporarily increase as the muscles of his or her diaphragm, abdomen, face, shoulders, back, and ribs contract. After laughter, the blood pressure and pulse drop below their baseline values and the muscles experience increased relaxation.

Improved social bonding.

Smiles and laughter tend to be contagious, connecting us to the people around us and helping us feel positively about them.
Given all of this, it's no wonder that the Bible lauds a cheerful heart as medicine (Proverbs 17:22)!
Amidst the chaos and struggles of life, sometimes we have to be intentional about experiencing humor. Watch a comedy, play games with your family, read a comic strip, tell a joke, or do whatever it is that causes you to laugh! Check out my sources (here and here) for more information about the health benefits of laughter.
What has caused you to laugh recently?
Shared on the following link-ups:
Coffee and Conversation, WholeHearted Wednesday, Titus 2sday, Titus 2 Tuesday, Living Proverbs 31, Making Your Home Sing, Saturday Soiree, Weekend No Rules Blog Hop & From House to Home.