When I have guests over, I typically try to make things nice. I do my best to get the house in tip-top shape, I cook my best meals, I use formal serving dishes, and I smile and act cheerfully (even if I'm having a rough day).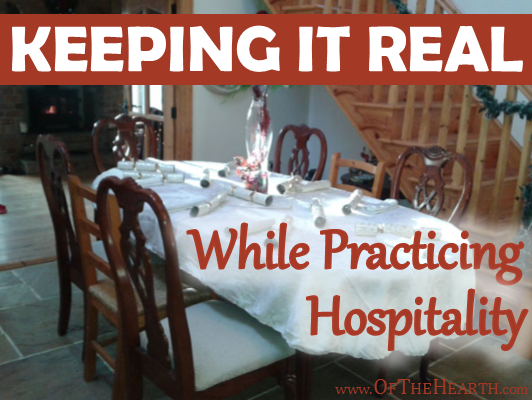 I'm beginning to realize that this nice façade may not be beneficial when practicing hospitality. Instead, my guests and I may both benefit from greater authenticity or what is colloquially termed "keepin' it real."
Reasons to keep it real while practicing hospitality
So true fellowship can happen

. We often equate fellowship with laughter and fun-filled activities. These certainly are part of fellowship, but so are things like sorrow, tears, debates, and even confession of sin. The proverbial putting on a happy face prevents genuine connection and fellowship, so let's bring our joys and burdens to the table alongside our entrees and desserts to fully live out Acts 2:42-46.

So our guests will be blessed

. How much of our preparations are spent creating a pleasant, comfortable environment for our guests and how much is spent trying to do things that will impress them or make us look good? Let's get comfortable with our homes and our cooking abilities and put our time and effort into blessing our guests. Let's spend less time searching Pinterest for meal ideas and more time praying for our guests before their arrival. Let's worry less about our mismatched dishes and focus more on asking engaging questions that show our interest in their lives.

So our guests can relate to us.

If we give the impression of "having it all together" or being perfect, then our guests may not be able to relate to us. After all, it's intimidating to interact with someone who appears to be without flaws! Our imperfections make us knowable. Let's be honest about these so we can develop deep, meaningful friendships.
What things do you do to maintain authenticity and keep the focus on your guests when you host others in your home?
Shared on the following link-ups:
Saturday Soiree, Growing in Grace, From House to Home, Capture Your Journey, WholeHearted Wednesday, Coffee and Conversation, Titus 2sday, Titus 2 Tuesday & Monday's Musings.