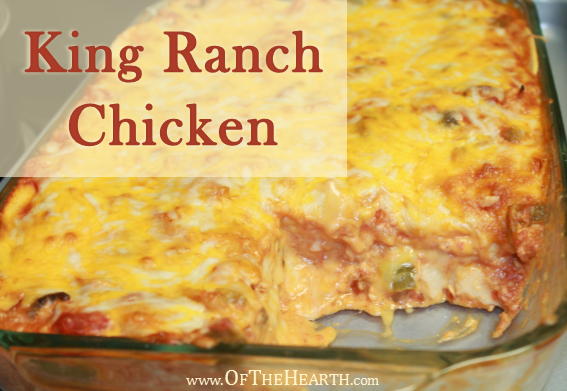 In honor of our move to Texas, we had to have King Ranch Chicken—a casserole that embodies the taste of south Texas—on our menu this fall. Though the origins of the dish are debated, most Texans love it. If you give it a try, you'll understand why it is so popular.
Ingredients
(Adapted from this recipe.)
4 tablespoons butter
1 medium onion, chopped
1 medium green bell pepper, seeded and chopped
1 cup diced mushrooms
28 ounces crushed tomatoes
1 (4-ounce) can diced green chiles
3 cloves garlic, minced
2 tablespoons flour
1 tablespoon chili powder
1 tablespoon ground cumin
1 1/2 teaspoons salt
1 cup chicken broth
1/2 cup heavy cream
1/2 cup sour cream
2 cups cooked, shredded chicken
12 (6-inch) flour tortillas
2 to 3 cups shredded cheddar cheese, to taste
Instructions
Preheat the oven to 400°F. Lightly grease a 9×13-inch baking dish.
Melt the butter in a large Dutch oven or heavy skillet over medium heat. Add the onion, bell pepper, and mushrooms. Cook 8-10 minutes or until softened. Add the tomatoes and green chiles, followed by the garlic, flour, chili powder, cumin, and salt. Stir 1-2 minutes or until fragrant and starting to thicken.
Add the chicken broth and cream. Slowly bring to a gentle boil. Reduce the heat and simmer for 10-15 minutes, stirring occasionally. Fold in the sour cream and chicken.
Layer 4 tortillas in the bottom of the prepared baking dish. Spread 1/3 of the chicken mixture over the tortillas, followed by 1/3 of the cheese. Continue with another layer of tortillas, chicken, and cheese, followed by a third layer of tortillas, chicken, and cheese.
Bake the casserole for 25 minutes or until bubbling. Let sit for 5 minutes before serving. Yield: 8 servings.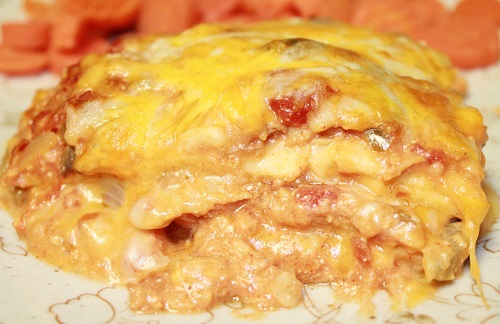 Notes
Just about any creamy, cheesy casserole is a hit in my house. This was no exception. The dish's subtle Tex-Mex flavor was great! Personally, I would have liked it to be just a little spicier, so next time I may add a little cayenne or additional chili powder to achieve this. You can use corn tortillas instead of flour tortillas if you'd like—corn tortillas give it a bit more flavor and they don't soften as much as the flour tortillas. Some individuals use canned cream of mushroom and cream of chicken soups instead of making the casserole from scratch. These do make the preparation easier; however, I don't think it tastes anywhere near as good.
The ingredients for this dish cost approximately $12.88, which is just $1.61 per serving. If served with a vegetable on the side, the price increases to about $1.78 per serving. This is a great price for a flavorful casserole that makes a hearty family dinner or a crowd-pleasing dish to share at a potluck. Give it a try!
Does your family love casseroles? Which is your favorite?
Shared at the following link parties:
Weekend Potluck, Inspiration Spotlight, Home and Garden Thursday, Handmade Tuesdays, Motivation Monday, From House to Home, Think Tank Thursday, Tuesdays with a Twist, What's for Dinner?, Living Proverbs 31 and Making Your Home Sing.
Save