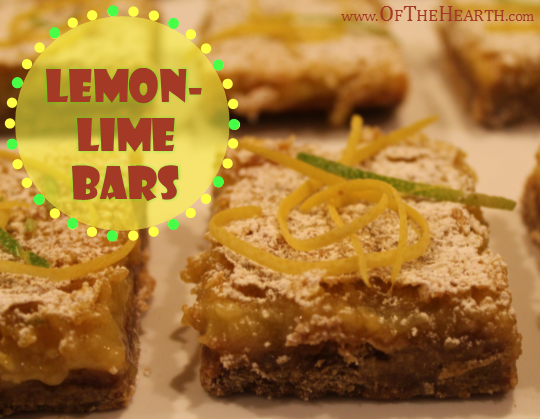 Last week it was my turn to take snack to small group. Instead of turning to a tried and true recipe, I thumbed through a stack of clipped recipes given to me by my late grandmothers. I decided that one was perfect for spring: Lemon-Lime Bars. These rich, delicious bars were a big hit!
Ingredients
(Adapted from the Lemon-Lime Bar recipe featured in the May 2008 Better Homes and Gardens magazine.)
2/3 cup coconut oil
1/2 cup packed brown sugar
2 1/2 cups flour, divided
4 teaspoons finely shredded lemon peel, divided
6 eggs
2 1/4 cups granulated sugar
1/2 cup lemon juice
3/4 teaspoon baking powder
1/8 teaspoon ground nutmeg
1 teaspoon finely shredded lime peel
2 tablespoons sifted powdered sugar
Instructions
Preheat oven to 350 degrees F. Grease a 13x9x2 inch baking pan.
To prepare the crust, beat together the coconut oil and brown sugar until well combined. Beat in 2 cups of the flour until crumbly. Stir in 2 teaspoons of the lemon peel. Evenly press on the bottom of the prepared pan. Bake for 20 minutes.
While the crust bakes, combine the eggs, granulated sugar, remaining 1/2 cup flour, lemon juice, baking powder, and nutmeg in a medium bowl. Beat for 2 minutes. Stir in the remaining lemon peel and the lime peel. Pour over the hot crust. Bake for 20 minutes more or until the edges are browned and the center appears set. Remove from the oven and place on a cooling rack; cool 1 hour. Cover and refrigerate for at least 2 hours before serving.
To serve, sprinkle evenly with powdered sugar and cut into bars. Can be stored covered in the fridge for up to 3 days. Yield: 16 to 20 bars.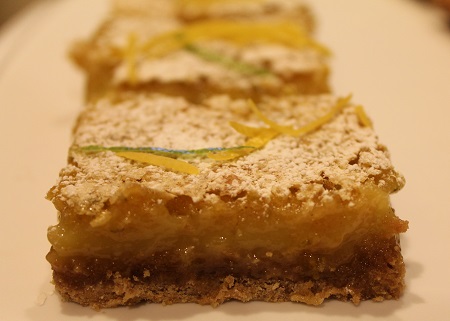 Notes
I got compliments and recipe requests, so I must not have been the only one who enjoyed these bars! They tasted like classic lemon bars with just a hint of lime flavor. The original recipe called for butter instead of coconut oil, but they turned out great when prepared with the latter (I'm sure they'd be just as tasty prepared with butter). Likewise, I used whole wheat flour for the crust instead of the all-purpose flour called for in the original recipe. I think the crust would turn out fine when prepared with whatever flour you prefer.
I suggest trying to serve the bars pretty quickly after sprinkling them with the powdered sugar so the sugar doesn't have time to absorb. This is when they look the most lovely! I added a bit of lemon and lime zest as garnish, but this is optional. Give them a try for your next get together this spring!
What desserts have you been enjoying lately?
Shared on the following link-ups:
One Project at a Time, Teach Me Tuesday, Frugal Crafty Home, Living Proverbs 31, Motivation Monday, Making Your Home Sing, Weekend Potluck, Inspiration Spotlight, Creativity Unleashed, Thrifty Thursday & Shine Blog Hop.