When we first got married, my husband was surprised to find that I hang some of my clothes on racks to dry them instead of using the dryer. Though he encouraged me to toss them in the dryer for convenience, I've continued line drying a significant amount of my clothing.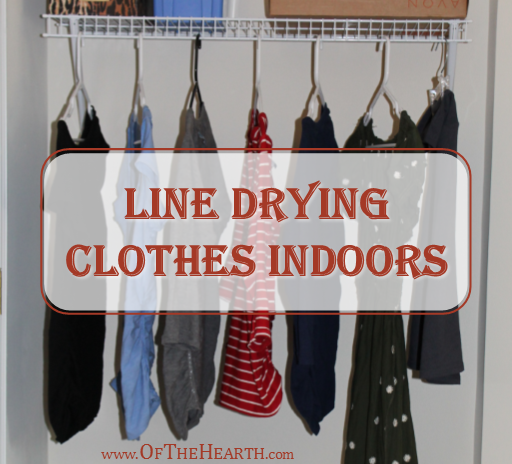 Of course, it would be easier to line dry clothes on an outdoor clothesline than it is to line dry them inside. Unfortunately, this really isn't an option where we live. We'd have to hang the line in the front yard of our townhome. I'm not sure our neighbors would appreciate this, plus the neighbor kids get into enough mischief in our yard as it is—I'd hate to see what they'd do with clothes that were hung out to dry!
If an outdoor line isn't an option, then why am I so bent on line drying clothes? I have a couple of motivations. One is preserving my clothes. Clothes can shrink in the dryer. Moreover, dryers can weaken the fabrics in clothing, causing them to wear out quickly (see tips on making clothes last longer here). Another motivation is saving electricity (and the money required to pay for electricity). Dryers consume quite a bit of power, so line drying clothes can cut back on energy usage. Of course, line drying clothes will not by itself solve the energy consumption problem we have in the U.S., but it is a simple approach that can save a little here and there.
Whether you're concerned about energy consumption and making clothes last or not, you may find yourself needing to line dry clothes at some point. If your dryer stops working and you can't afford to replace it immediately, this may be a temporary solution for you.
Strategies for line drying clothes indoors
Here are strategies I've used to successfully line dry clothes inside.
Use wire shelves or movable racks to hang clothes
Simple wire shelves and movable racks are affordable structures that can effectively suspend clothes as they dry. I suspend clothes from one wire shelf that hangs in our bedroom and from one movable rack that I place in various locations throughout the house.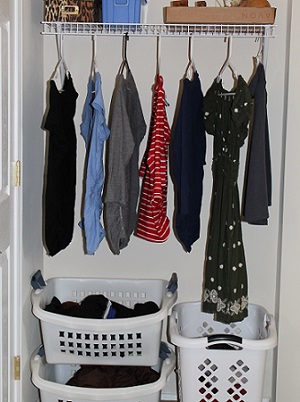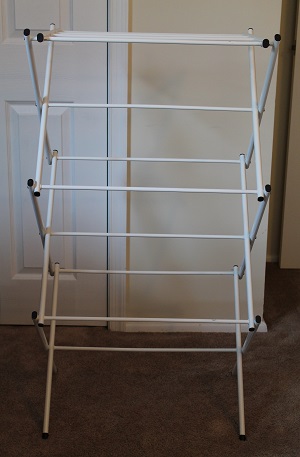 If you're looking to purchase a movable rack, there are a number of innovative ones available (see examples here and here).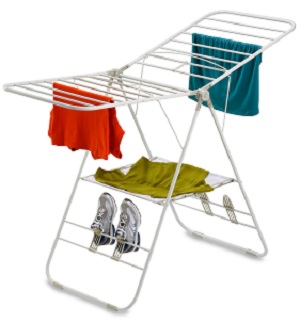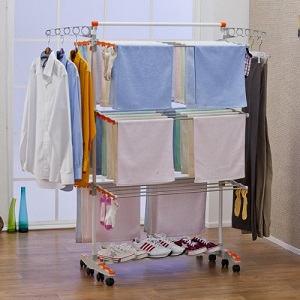 Place movable racks in areas where there is airflow
Air movement is critical if clothes are to dry in a timely manner. If you live in a humid region, this is also important to prevent mold or mildew growth in areas where clothes are dried. Airflow can exist because of cross ventilation from open windows, ceiling fans, standalone fans, or space heaters. Though fans and space heaters do use electricity, using them for an hour or two will use less electricity than using the dryer.
Place movable racks in sunlight or by heat sources
Heat will help clothes dry more quickly. Heat can come from sunlight or from a heating source like a wood burning stove, radiator, or heating vent. Some people report that they've had clothes fade when they've hung them in sunlight, so be careful leaving them in the sunlight for too long.
Don't use too much soap
If you use too much soap, it might not all rinse out in the wash. This means the soap will leave a residue on clothing, which might cause clothes to become stiff. This stiffness will be more noticeable on line dried clothes than clothes dried in a dryer.
Avoid using fabric softeners
Fabric softeners contain softening chemicals such as quaternary ammonium compounds that are asthmagens (substances that can cause asthma to develop in otherwise healthy people). There is also concern that the antimicrobial properties of some of these substances may contribute to antibiotic resistance (read more about the concerns here). If you don't want these potentially harmful substances floating around your home, then avoid fabric softeners. White vinegar can be used to soften fabrics instead (the vinegar can also help remove buildup from soap).
If needed, you can always toss your clothes in the dryer for 5 minutes or so to finish them after they've hung for a while. This will help them dry more quickly and will eliminate any stiffness.
Though I do line dry clothes like t-shirts, slacks, and blouses, I continue to use the dryer for towels and jeans. I've found this works best for us because it saves time and keeps the towels from developing a mildewy scent.
Do you line dry any of your clothes indoors? What strategies make this work for you?
This post contains affiliate links. Click here to read about what this means.
Shared on the following link-ups:
Thrifty Thursday, WholeHearted Wednesday, Works For Me Wednesday & Titus 2sday.