Several weeks ago we attempted to take cake smash photos for our daughter's first birthday. Everything was "picture perfect" except our daughter's response. One taste of the frosting on the cake and she had a meltdown!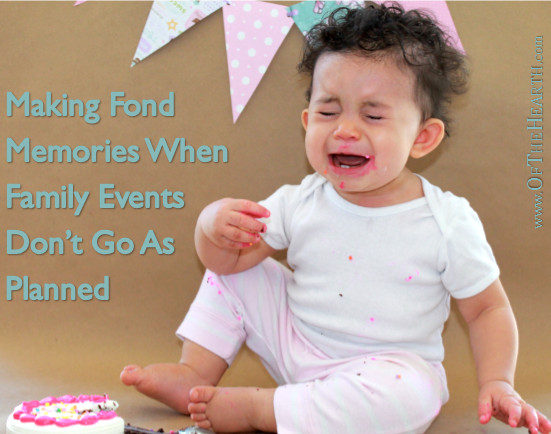 When this happened, I felt a little disappointed. After all, my husband and I wanted wonderful photos to help us remember her first birthday. However, I quickly realized that there was no point in being disappointed. We laughed at the situation, cuddled our sappy daughter close, and moved on. I have no doubt that years from now we will smile and laugh as we tell the story of how the cake smash went awry.
At some point, you'll likely face (or have already faced) a similar situation. It may not involve a first birthday cake, but it may involve a burnt Thanksgiving dinner, a trip to the ER on Christmas, or a family argument on Easter. Whatever the specifics, how can we make fond memories when family events don't go as planned?
How to make good memories when family events go poorly
Have realistic expectations.

We often set ourselves up for disappointment because we expect things to go perfectly. In reality, our families are made up of imperfect people, so there's no way to achieve perfection. It's a good idea to forget the perfect images we see on Pinterest and embrace the less-than-perfect reality before us.

Plan ahead, but be flexible.

Careful planning reduces the chances that family events will go amiss. We must grasp these plans loosely, though, so we can be flexible in the face of unexpected occurrences. Did you ruin your well-planned Thanksgiving dinner? It's okay. Being flexible means you can cheerfully pull a frozen lasagna out of the freezer and eat it instead. Did your plans to open gifts around the tree on Christmas Eve get derailed because grandma got hospitalized? It's okay. Being flexible means you can enjoy taking a few gifts up to her hospital room and open them there.

Look for the positive.

If we walk around with glass-half-empty mentalities, then we'll only see and remember the negatives. On the other hand, if we intentionally look for the positives, then we'll enjoy ourselves now and have positive memories in the future. Need help identifying some positives? Consider the event that is happening and determine which aspects of it you can be grateful for. These are the positives on which you can focus.

Consider the big picture.

Sometimes very solemn things, such as the death of a loved one, occur and change the tone of a family event. However, sometimes a family event doesn't go as planned because of something that is pretty inconsequential, such as a baby having a meltdown after tasting cake for the first time. In situations like this latter example, it's wise to consider the disturbance in the context of the big picture. When you are surrounded by family, it's a good thing. When you are healthy enough to enjoy various activities, it's a good thing. When framed in this larger context, most derailed family events don't look so bad!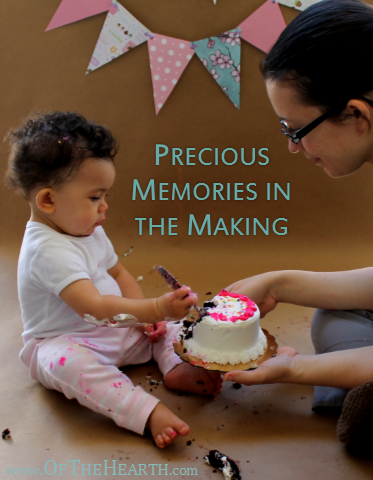 Have you had family events that didn't go as planned? How did you respond? Based on your experience, what would you recommend we do to make fond memories when these things happen?
Shared at the following link parties:
Shine Blog Hop, Coffee and Conversation, Tuesday Talk, Titus 2sday, Titus 2 Tuesday and The Art of Home-Making.
Save