The last two years I've written year-end posts about the lessons I've learned in the preceding 12 months. I could do this again because I've learned a number of lessons this past year, but I'm suffering from recency effect—I'm having trouble remembering all but the most recent lessons (this is no doubt due to the demands of caring for my newborn). Subsequently, I'm going to take a different approach and explore how we can make sure the lessons we learn stick with us.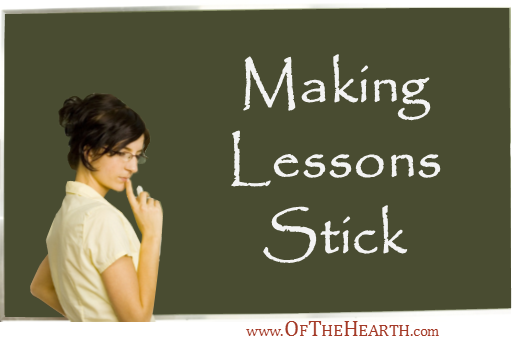 My decision to explore this topic isn't random. I began thinking about it when I found a piece of paper stuck inside my laptop computer a week ago. My husband had printed out a copy of Rekindling the Romance of Early Marriage, one of my recent posts, and placed it there to remind me of the strategies I shared in that post (in other words, I haven't been using all of those strategies and he wanted to point this out). This little reminder nudge got me thinking about how we can make sure the lessons we learn stick with us and influence our behavior.
Strategies for making lessons stick
Don't bite off more than you can chew.

I'm often learning more than one lesson at the same time. For example, I might be learning to rekindle the romance of early marriage at the same time that I'm learning lessons about using to-do lists effectively and resisting materialism. If I don't prioritize and home in on one of these topics, then I get spread thin and end up learning very little about each.

Review, review, and review some more.

Most of us have seen how repetition is beneficial when learning a new concept or skill. We need to take advantage of this by creating opportunities for repetition. For example, when trying to internalize strategies for rekindling romance in marriage, I've found it useful to pray about the strategies in the morning, review them in the afternoon, and implement at least one each evening.

Arrange for accountability.

If no one knows that I'm trying to grow in a skill, then I often find it easy to take a casual or sometimes insincere approach to my growth. After all, I'm the only one who will know if I fail. This is why accountability is so critical. If a friend knows that I'm trying to grow in this and I know I'll be asked about my progress, then I'm more serious in my approach to growth.

Stop making excuses.

We often make excuses because it's easier to come up with them than it is to admit and address our weaknesses and errors. I don't want to deceive myself with excuses—I want to confront my shortcomings so I can rise above them. How can we ditch our excuses and take action instead? See some tips here.
Have you found ways to make lessons stick? Share your strategies in the comments section below.