I don't know why I'd not previously considered combining pears, maple syrup, and spice cake, but I'm sure glad I thought of it last week! In order to make my idea come to life, I augmented a spice cake recipe that I found on allrecipes.com (you can see the original, pear- and maple-free recipe here).
Ingredients
2 pears (firm enough that they'll slice cleanly)
1/2 cup + 4 tablespoons butter
1/3 cup maple syrup
1 cup packed brown sugar
1/2 cup white sugar
1 1/4 teaspoons allspice
1/2 teaspoon ground nutmeg
2 eggs
1 1/2 teaspoons vanilla extract
1 1/4 cups white whole wheat flour (or a half-and-half mixture of whole wheat and all-purpose white flour)
3/4 cup rolled oats
3/4 teaspoon baking soda
3/4 teaspoon baking powder
1/4 teaspoon salt
1/3 cup sour cream
1 cup mashed bananas (about 2 medium bananas)
Instructions
Heat the oven to 350°F. Pull out two 9-inch round cake pans. Place 2 tablespoons of butter in each pan and melt the butter in the oven. Halve, core, and thinly slice the pears. Arrange the pear slices over the melted butter in the pans. Drizzle maple syrup over the pear slices.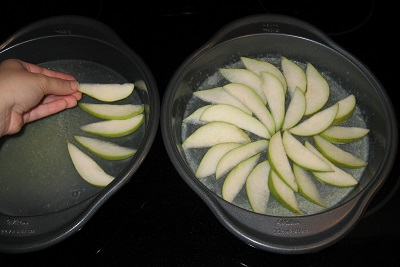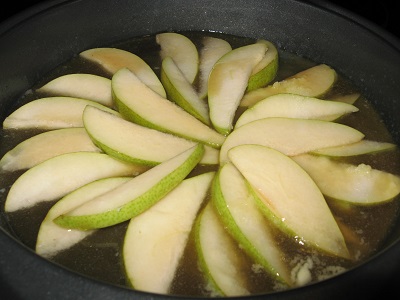 In a large bowl, cream the remaining butter. Add the brown sugar, white sugar, allspice and nutmeg; beat until light and fluffy. Mix in the eggs and vanilla extract. Add the flour, oats, baking soda, baking powder, and salt to the mixture. Stir in the sour cream and bananas.
Pour the batter into the pear-lined pans. Bake 30-35 minutes. (By this time, your house will be filled with a delightful aroma!) Allow to cool for 30 minutes before turning onto plates or serving platters. Yield: 16 servings (8 servings per cake).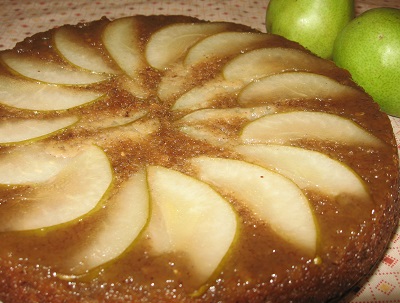 Notes
My friends raved about the appearance and flavor of this cake! I wholeheartedly agreed, though I was a little surprised at how clearly I could discern the flavor of bananas. This isn't a bad thing—I was just expecting more of a spice flavor. If you don't mind a spice cake that is reminiscent of banana bread, then you'll love this. If you're not so enthusiastic about bananas, then I recommend substituting applesauce for the bananas. I'll try this next time I make it. I may also add some cinnamon to the batter to enhance the spice flavor.
I had leftovers of the cake for breakfast. Honestly, I think it tasted better leftover than it did the day I made it! Speaking of breakfast, this would be an excellent dish to serve for brunch.
This cake doesn't have the light, airy texture typically associated with cakes. It's much denser. This is how I prefer cakes, so I consider it to be a good thing. However, if you're looking for a lighter texture, you may want to adjust the recipe.
I love that the oatmeal and fruit in this recipe make it pretty healthy. If you'd like to make additional changes to further "healthify" it, you can substitute plain yogurt for the sour cream and use Sucanat or coconut sugar for the white sugar.
Give this one a try. You'll love it!
Shared on the following link-ups:
Weekend Potluck, Empty Your Archive, All Things Christmas, Frugal Crafty Home, Whatever Goes Wednesday, Works for Me Wednesday, Titus 2 Tuesday, Titus 2sday, Making Your Home Sing, Miscellany Monday, & Motivation Monday.