As changes occur in your life, there is often a decrease in the amount of time and energy you have to invest in your marriage. My husband and I are seeing this firsthand as we adjust to parenthood. We've decided to be intentional about remaining connected during this busy season of our life.
While on our annual goal planning retreat, we decided to set aside time each Sunday evening to check in with one another. We've previously used this time slot for praying together. We'll continue this practice, but we'll also be asking each other questions that will help us remain connected and growing in our marriage.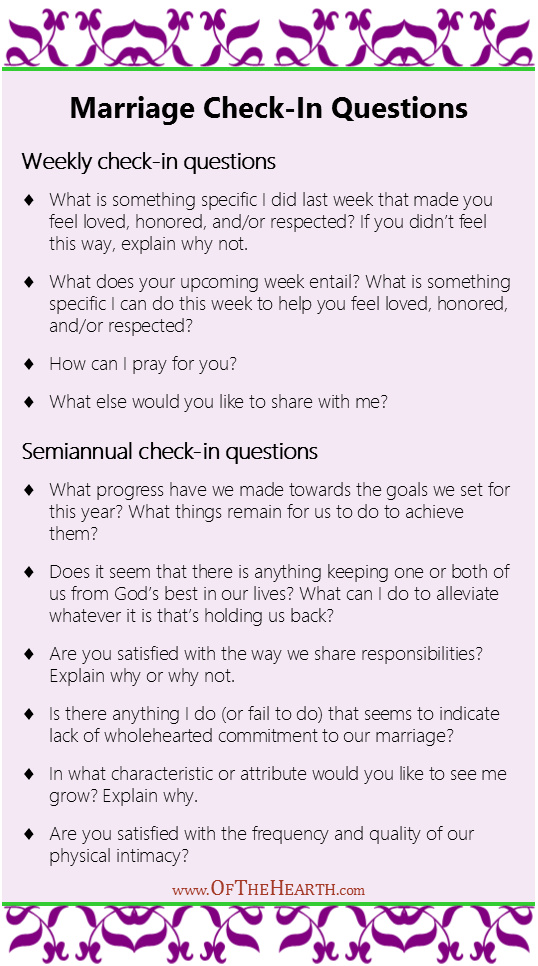 There are quite a few additional questions we could ask; however, our time is limited, so we're hoping these questions reflect quality instead of quantity.
Are there other questions you feel are essential? What things do you and your spouse do to make sure you stay connected during busy seasons?


Shared on the following link-ups:
Motivation Monday, Growing in Grace, WholeHearted Wednesdays, Coffee and Conversation, Whatever Goes Wednesday, Titus 2 Tuesday, Living Proverbs 31, Making Your Home Sing & Saturday Soiree.
Save
Save