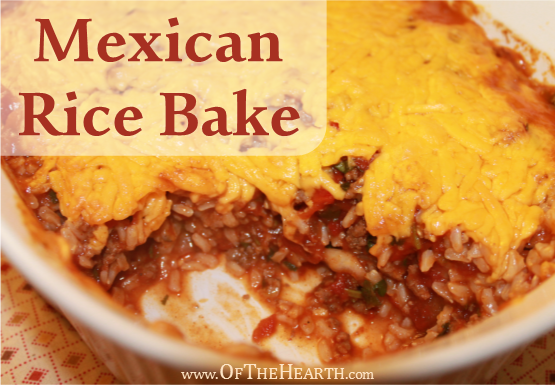 This recipe caught my eye because it seemed easy to prepare and sounded tasty. I'm glad we tried it because it met my expectations!
Ingredients
(Adapted from this recipe.)
1 lb. ground meat
1 ½ cups brown rice
2 cups water
½ of a red or green bell pepper, diced
1 medium onion, chopped
1 bunch cilantro, chopped
1 carton or can (14.5 oz.) diced tomatoes
¼ cup taco seasoning
Several dashes of salt and pepper
1 cup shredded cheddar cheese
Instructions
Preheat your oven to 375°F. Brown the ground meat in a large pot over medium-high heat. Drain the excess fat and stir in the rice, water, bell pepper, onion, cilantro, tomatoes, taco seasoning, salt, and pepper. Reduce the heat to medium-low.
Cover and simmer for about 35 minutes, stirring occasionally. Once the rice is tender, transport the mixture to a 2-quart casserole dish. Press down firmly and sprinkle with the shredded cheese.
Bake for 10 to 15 minutes or until the cheese is melted. Yield: 6 servings.
Notes
We really enjoyed the savory flavor of this casserole! The first time I made it I used the ¼ cup of taco seasoning indicated above. I've used a little more taco seasoning than this when I've made it since then to give it a bit stronger flavor. Use however much you think your family would prefer! Keep an eye on the rice as it cooks, because you may need to add a little bit of water to keep it from getting too dry.
This casserole freezes very well. Simply prepare it as directed above, but wrap it and freeze it once assembled instead of baking it. When you're ready to eat it, thaw it in the fridge and bake it at 350°F for 30-40 minutes or until heated throughout.
The ingredients for this dish cost approximately $7.21, which is just $1.20 per serving. If you need to expand the casserole a bit, feel free to add in some corn or black beans. For an extra special touch, garnish it with a bit of sour cream and some fresh cilantro.
Sound good? Try it soon!
Shared at the following link parties:
Small Victories Sunday, The Art of Home-Making, Monday's Musings, Titus 2 Tuesday, Tuesdays with a Twist, Healthy Living, Weekend Potluck, What's for Dinner? and Making Your Home Sing.
Save
Save
Save
Save
Save
Save
Save
Save
Save