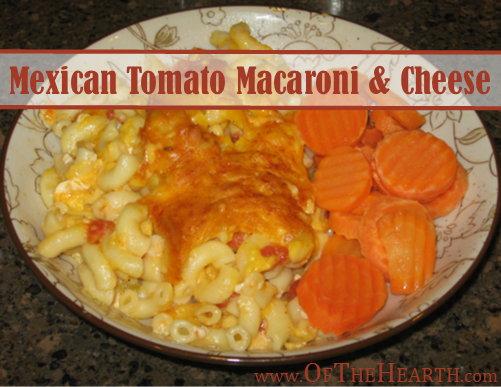 After the Italian Tomato Macaroni & Cheese I made last spring turned out so well, I decided to tweak the recipe to create a Mexican version. The result was just as hearty and just as tasty.
Ingredients
3 cups macaroni pasta (uncooked measure)
4 cups shredded cheddar cheese
1/2 cup sour cream
1 can (10 oz.) diced tomatoes and green chilies
2 tablespoons butter
3 teaspoons taco seasoning
1 1/2 cups milk
Instructions
Preheat oven to 350°F. Cook macaroni according to package instructions, drain, and return to the pot in which it was cooked. Mix together the tomatoes and green chilies and sour cream in a medium bowl, then stir the mixture into the macaroni.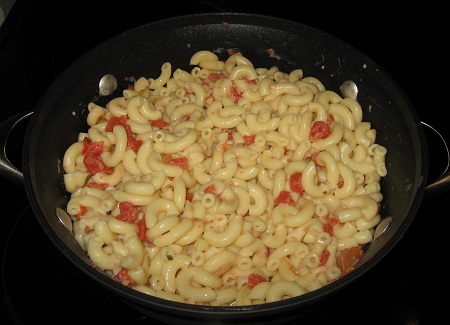 Place one-third of the macaroni mixture in a greased oven-safe bowl or casserole dish. Top with one-third of the shredded cheese. Sprinkle 1 teaspoon of the taco seasoning on the cheese. Repeat twice, so you have a total of three macaroni-cheese layers. Place pats of butter on top of the final cheese layer. Pour the milk over the top.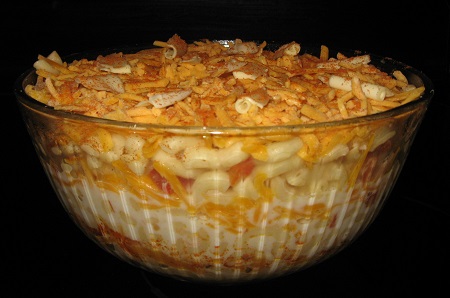 Bake uncovered for 30-35 minutes, until it is heated through and the top layer of cheese is lightly brown and crisp. Yield: 4 servings.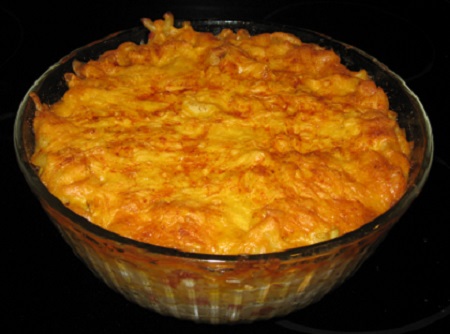 Notes
We love this macaroni and cheese variation! It is rich and filling with slightly spicy undertones. If you eat any leftovers of it, I recommend adding a splash of milk before reheating so it remains creamy.
The ingredients for the dish cost $5.60, which is $1.40 per serving (this price includes everything but the taco seasoning, which is a staple in my house). We eat it with a vegetable (usually a frozen vegetable), so this brings the cost of each serving to $1.57. It's affordable, tasty, and easy to make. Try it tonight!