From 1941 to 1945, while the U.S. was involved in World War II, Americans experienced shortages of raw materials and consumer goods. To avert a potential economic crisis, the U.S. government instituted a rationing system. The government distributed impressive propaganda materials to garner compliance with the rationing and to bolster patriotism.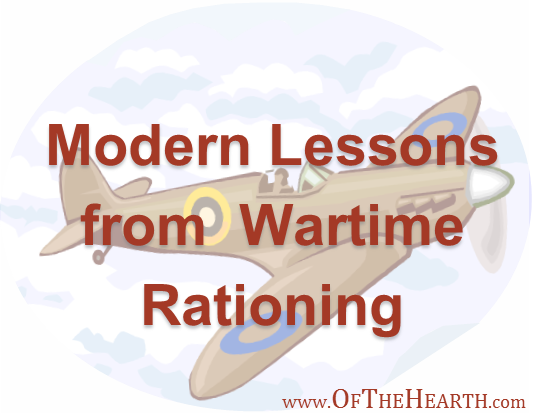 Sometimes I grow nostalgic and romanticize the "good old days." The lifestyle changes necessitated by rationing demonstrate that the good old days weren't always that great! Every era has opportunities and challenges. Some of these are unique to a given era, but many are surprisingly commonplace. In fact, there are many lessons we can learn from the conservation methods promoted during rationing.
The lessons
These images depict only a handful of the lessons learned by Americans. A few other examples are listed below.
Recipes can be adapted so they require less sugar.
Keeping a stock of essentials on hand can help your family be prepared for unexpected emergencies that lead to shortages.
Casseroles can help small amounts of meat go further.
Beans and lentils make great substitutes for meats.
Isn't it amazing that these lessons are still so applicable to us today? What other lessons do you think we can learn from WWII rationing?
Shared on the following link-ups:
Whatever Goes Wednesday, Works for Me Wednesday, Living Proverbs 31, Thriving Thursday, Encourage One Another, Teach Me Tuesday & Titus Tuesday.