After supporting many friends through pregnancies, I thought I had a pretty good grasp of the breadth of modern pregnancy celebrations. However, when my husband and I were finally blessed with a pregnancy this last spring, I quickly realized that I had no idea how pregnancy is celebrated by a large number of Americans.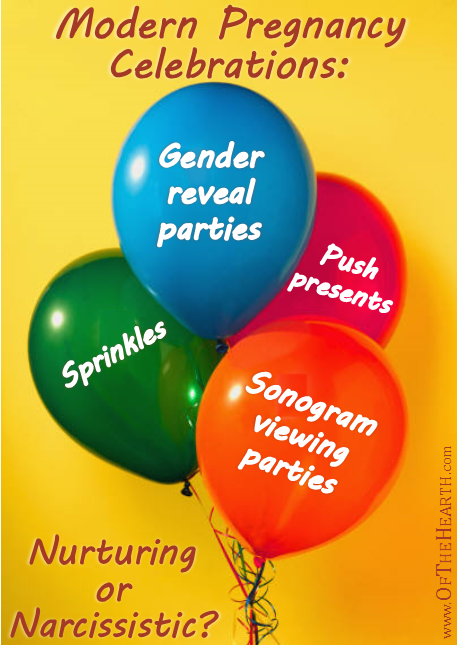 After announcing their pregnancies with elaborate social media posts and trinkets sent to grandparents, many women proceed to celebrate with a number of interesting observances.
The gender reveal party.

Gender reveal parties are gatherings where expectant parents reveal the sex of their child to friends and family. These parties often have themes (ties or tutus, trucks or tiaras, etc.) and guests are sometimes asked to dress in pink or blue, indicating if they believe the child will be a girl or boy. The sex is revealed when the expectant parents bite into cake with pink or blue filling, open a box of pink or blue balloons, spray each other with pink or blue silly string, or some similar activity.

The sprinkle.

Baby sprinkles are small baby showers thrown for second and subsequent pregnancies. They are generally less elaborate than showers and, given many parents already have essential items for a baby, guests are often asked to bring affordable gifts such as wipes or diapers.

The sonogram viewing party.

Sonogram viewing parties are gatherings where expectant parents invite family and friends to view a live sonogram of their baby. They usually serve refreshments and then the guests gather around a screen for a sneak peak at the baby. These parties sometimes coincide with gender reveal parties.

The push present.

Push presents are gifts given to moms shortly after they've given birth. They are viewed as a way for fathers to show love, support, and gratitude for the work moms have done in carrying and delivering their babies. Common gifts include jewelry, new clothes, gift cards, and flowers.
I'd like to don rose-colored glasses and view all of these celebrations as positive. They just show how much our society values babies, right? Unfortunately, this isn't the case.
We can't look at the high abortion rates, low birth rates, and poor parental leave policies in our country and honestly proclaim that our society values babies. We may value them as individuals and as families, but our society doesn't.
What these celebrations are is an opportunity for parents to bask in attention. A push present doesn't celebrate the baby. It "rewards" mom for something I view to be a privilege—being used by God to give life to another human being. A gender reveal party doesn't really celebrate the baby. After all, attendees are going to cheer regardless of if the cake has pink or blue filling (or at least I'd hope they'd be happy regardless). A sprinkle doesn't really celebrate the baby. Let's be honest—the purpose of a sprinkle is to shower (or sprinkle) the parents with gifts, not to sit around and talk about how exciting it is that a baby is on the way.
I'm not saying that it's wrong to engage in these celebrations or that you're selfish if you've had these for your baby. However, I think it's important for us not to blindly engage in celebrations that our culture says are good. We must closely evaluate the purpose of these celebrations and our motives for engaging in them (1 John 2:16-17).
If you really want to celebrate your baby, invest your effort into becoming a better parent. Consider making a donation in the baby's name to a charity that helps children. Pray for your child. Mentor kids who don't have good role models in their homes. These things are a lot more meaningful than a gender reveal piñata filled with pink or blue confetti.
What are your thoughts on these modern pregnancy celebrations?
Shared on the following link-ups:
Motivation Monday, Making Your Home Sing, Essential Fridays, WholeHearted Wednesday, Works for Me Wednesday, Capture Your Journey, Titus 2sday & Titus 2 Tuesday.