My husband loves watching movies, so he thinks movies make great dates. I'm frequently unimpressed by movies, so I'm not so sure.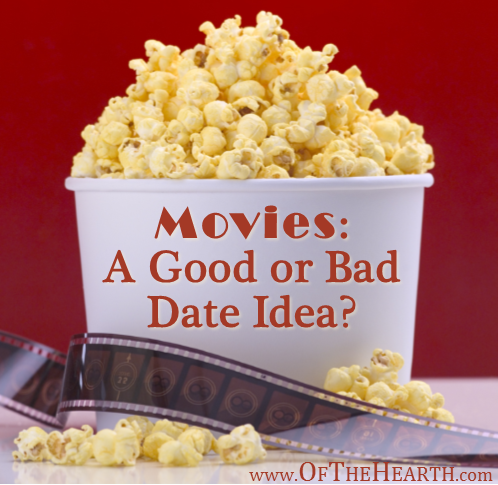 Let's look at some advantages and disadvantages associated with movie dates, as well as some things that can be done to enhance this classic date idea.
Advantages of movie dates
Movies can spark conversations about topics you've not addressed previously

. When you view movies about novel, controversial, and/or difficult-to-discuss topics, it can open the door to meaningful conversation with your spouse.

It doesn't take much energy to watch a movie

. Sometimes it is hard to have energy for a date night because everyday tasks are so draining. You don't have to invest much energy into watching a movie. You can just sit back and unwind with your spouse while being entertained.

You can watch movies at home or go out to watch them

. It can be nice to get out of the house and enjoy a movie on the big screen. However, if you don't feel like going out, you can choose to hang out at home while watching a movie. Services like redbox and Amazon Instant Video provide affordable options for viewing movies at home.
Disadvantages of movie dates
You're watching a screen instead of talking

. You generally don't engage in conversation with your spouse during a movie. (If you dare talk while watching one in a movie theater you'll no doubt draw the ire of everyone around you!) This means you may not discuss pressing issues or connect as deeply as you might if you were engaged in some other activity.

It can be difficult to find a suitable movie

. Many movies are so laden with sex, foul language, and violence that it can be challenging to find options that are both entertaining and wholesome.

Seeing movies can be expensive

. If you go to a theater, it'll likely cost $20 or more for the two of you to see a movie. That's just for the tickets—if you decide you want snacks it'll cost even more!
Tips for enhancing movie dates
If you've grown bored with movie dates because they are accompanied by a "been there, done that" feeling, consider trying some of these fun strategies to enhance movie dates.
Visit the nearest drive-in movie theater

. When the weather is nice, catch a show at a nearby drive-in theater.

Spend a couple of weeks reading a book together and then watch a move that's based off of the book

. Examples include The Lion, the Witch, and the Wardrobe (book/movie), The Scarlet Pimpernel (book/movie), the Lord of the Rings Trilogy (books/movies), and Pride & Prejudice (book/movie).

When watching movies at home, do something nontraditional

. Watch a movie outside on the back porch while roasting marshmallows. Don comfy PJs and sprawl out on sleeping bags on the living room floor while watching a movie. Change into attractive sleepwear and watch a romantic movie by candlelight.

Have theme nights

. Eat foods and engage in activities that relate to the movie you'll be watching. Check out some ideas on the Dating Divas website. Some of the ideas sound really fun!
Whether you see a movie or not, find some time to step away from the busy activities of life and go on a date with your husband!
Do you think movies make good dates? If so, which movies do you recommend as good date movies? If not, what sort of activities do you prefer for dates?
This post may contain affiliate links. Click here to read about what this means.
Shared on the following link-ups:
Living Proverbs 31, Making Your Home Sing, Miscellany Monday, Fellowship Fridays & Friday!