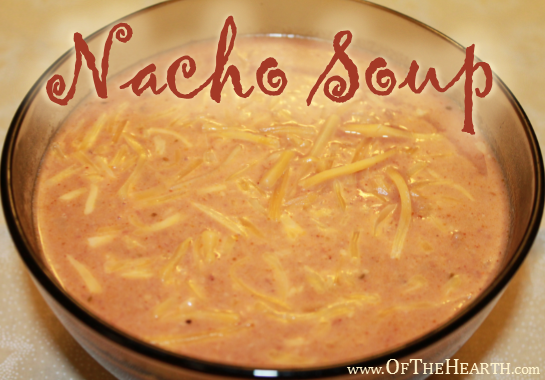 Traditional favorites like chicken noodle soup will always be popular in my house. On occasion we like eating soups that are a little less predictable, though, including this zesty Nacho Soup.
Ingredients
1 pound lean ground meat (I use turkey)
1 medium onion, chopped
2 tablespoons spicy taco seasoning mix
2 cups cheese sauce or 1 can (10 3/4 oz.) condensed nacho cheese soup
2 cups diced tomatoes from a carton or 1 can (14.5 oz.) diced tomatoes
2 cups prepared black beans or 1 can (15.25 oz.) black beans
1 1/2 cups milk
1/3 cup shredded cheddar cheese
Tortilla chips (optional)
Instructions
In a large saucepan or Dutch oven, cook the ground meat with the onion over medium-high heat for 5 to 7 minutes or until the meat is thoroughly cooked, stirring occasionally. Drain the meat (if needed).
Reduce the heat to medium. Stir in the remaining ingredients except the shredded cheese and tortilla chips. Cook 8 to 12 minutes or until thoroughly heated, stirring frequently. Top individual servings with shredded cheese and serve with tortilla chips. Yield: 5 servings.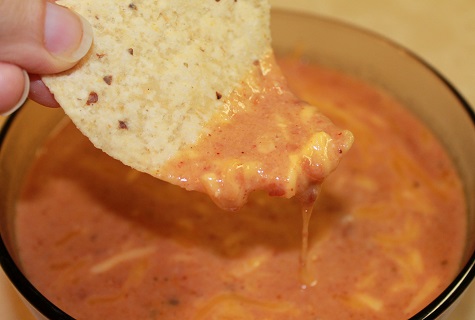 Notes
This soup is reminiscent of queso dip, so it's especially nice to enjoy it while watching a football game or movie. The tortilla chips are optional, but we love dipping them in the soup or crumbling them over the top of it. This soup is pretty mild when prepared as described above, so feel free to spice it up by adding additional taco seasoning or substituting a can of Rotel for the diced tomatoes.
The ingredients for this soup cost approximately $8.93, which is just $1.79 per serving. Next time you're looking to try a novel soup, give this one a try!
Shared at the following link parties:
Coffee and Conversation, Home Sweet Home, Weekend Potluck, Inspiration Spotlight, Blog Fair, and Think Tank Thursday.