My husband and I both recently had bouts with colds. Even though we were able to get over our symptoms pretty quickly, I don't want to repeat the experience soon and I want to make sure our infant daughter remains healthy.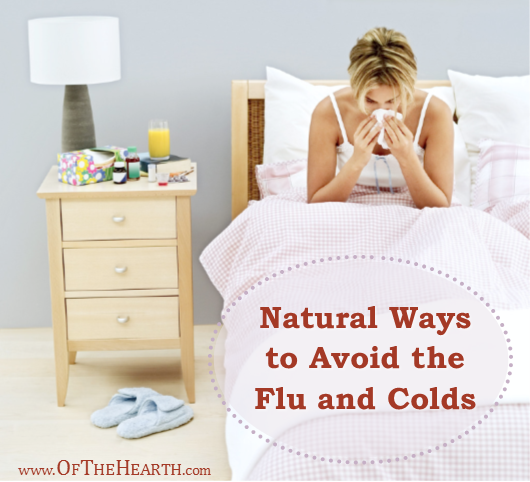 What things can we do to stay healthy? I did a little research and found numerous safe, natural ways for warding off the flu and colds. The first few tips on the list may be familiar, but the remaining tips may surprise you.
Tips for avoiding the flu and colds
Diligently wash your hands.

We all know about hand washing. I don't want to point out the obvious, but the effectiveness of hand washing in preventing the flu and colds can't be overstated. Wash your hands frequently, either with soap and water or with an alcohol-based hand sanitizer (avoid hand sanitizers that contain triclosan).

Avoid touching your face.

Viruses, including colds and flu, enter the body through the eyes, nose, and mouth. Even if you wash your hands diligently, you're likely to have some germs on your hands. Thus, it's wise to avoid touching these areas.

Muffle coughs in your elbow.

Instead of coughing or sneezing into your hand, do so into your elbow. This way you don't spread germs onto everything you touch with your hands.

Go outside for some fresh air.

Many people mistakenly think that going out in the cold will make you sick. The opposite is actually true: Staying cooped up indoors makes it more likely you'll get sick. Studies show that in most locations indoor air quality is two to five times worse than outdoor air quality. Going outside (or opening the windows) allows you to breathe fresh, clean air and gives you space so you're not in as close proximity to those who may be sick.

Manage your stress.

Studies have shown that stress has deleterious effects on the immune system. Relaxation exercises, on the other hand, rev up the immune system because they cause interleukins (an important part of the immune response against cold and flu viruses) to increase in the bloodstream.

Get regular aerobic exercise.

When you engage in aerobic exercise, your body heats up and your heart pumps larger quantities of oxygen-rich blood throughout the body. These changes may help the body fight viruses.

Eat your veggies.

Phytochemicals, found in dark green, red, and yellow vegetables and fruits, give a supercharged boost to the vitamins in these produce items. When your body can access and use these vitamins, your immune system is more likely to function properly.

Breastfeed your infant.

If you have a baby, he or she was likely exposed to any cold or flu virus you have before you even realized you were sick. You can't transmit these illness to your baby via breast milk, but the milk contains antibodies that are specific to the illness (i.e., the antibodies in the milk will help keep the baby from getting sick, or if he or she does get sick, it will likely be less severe than you experienced).

Avoid cigarette smoke.

Whether you smoke cigarettes or inhale secondhand smoke, your lungs are harmed by exposure to cigarette smoke. Smoke dries out the nasal passages and paralyzes the cilia (delicate hair-like structures in the respiratory tract). Without moist nasal passages and functioning cilia, the body has a hard time sweeping cold and flu viruses from the nasal passages.
It sounds like it's time for me to bundle up the baby and head out for a walk so we can both get some fresh air and I can get some aerobic exercise! For more information on the prevention of colds and the flu, visit my sources here, here, and here.
Are there other things you do that help protect your family from the flu and colds?
Shared on the following link-ups:
Coffee and Conversation, WholeHearted Wednesday, Capture Your Journey, Titus 2 Tuesday, Making Your Home Sing & Saturday Soiree.