Three weeks ago we considered if preschool is really necessary and two weeks ago we discussed four questions that parents can ask themselves when determining if preschool is right for their child. As promised, today I'm going to discuss the decision we've made for our preschool-age daughter.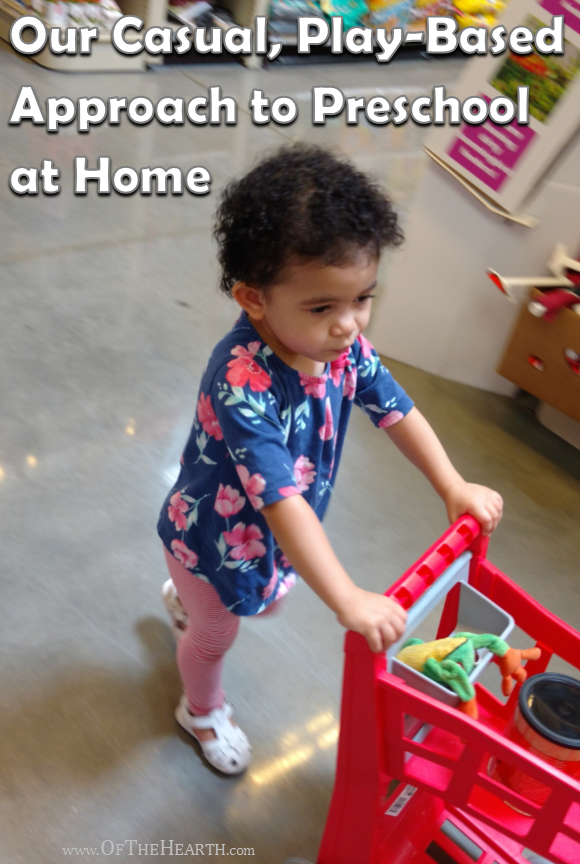 We've decided that she does not need to attend a formal preschool program. Here's why:
She's already learned many of the things kids learn at preschool (e.g., color and shape recognition, how to say the alphabet and count to ten, letter and number recognition) through our everyday activities at home. She'll learn more and more in the coming months! Additionally, through her interactions with family members and friends, she's learning important social skills (e.g., getting along with others, identifying and regulating emotions, coming up with solutions to conflict).
We plan to homeschool, so there is no need for her to learn the behaviors necessary for success in typical school settings (e.g., how to raise her hand before asking a question, how to stand in line while walking down the hall), nor does she need to begin kindergarten with an academic edge. Though we hope she will excel academically, we want to balance our focus on academics with the encouragement of her spiritual growth and character development.
The formal preschool programs around here range from relatively affordable to downright expensive. Either way, we don't feel that the costs are worth what she will get from the programs. Additionally, we believe children her age learn best through play. We don't want worksheets and similar activities to eclipse her opportunities for play.
What we are doing instead of formal preschool
Though we are not enrolling her in a preschool program, we are going to utilize some materials that will help us introduce the concept of school and provide her with outlets for her natural curiosity. Our inspiration for this came from Timberdoodle, a family-owned company that assembles and sells homeschool curriculum kits. The folks at Timberdoodle don't create educational materials, but they look at everything available and pick the best items from each subject area (e.g., language arts, math, history, geography, science) and assemble these into "complete curriculum kits" that are available for each grade level.
When we first looked at the Timberdoodle kits for Preschool and PreK, we were so pleased with the variety of materials they contained. Timberdoodle's kits contain workbooks, manipulatives, art supplies, materials for science experiments, and even games. Timberdoodle offers basic, complete, and elite kits (the basic kits only contain the essential materials while the elite kits contain the essentials plus numerous items that will optimize the learning experience). The PreK kits vary in price from $250 (for the basic kit) to $610 (for the elite kit).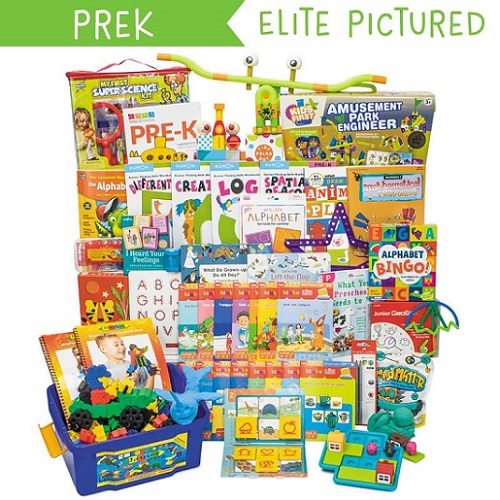 I'm super frugal, so this seemed expensive to me, but it's not when you compare it to other popular homeschool preschool curriculums. Alpha Omega Publications' Horizons Preschool Curriculum Set, which costs $129.95, includes two student books, a music CD, and a resource packet with manipulatives. Sonlight's Preschool Package, which costs $343.74, includes several books, some art supplies, a pattern block set, and a matching game.
With Timberdoodle, I feel like we're getting more for our money. More importantly, I think the materials in the kit align with our desire for a casual, play-based experience! We've customized a curriculum kit, so it is perfectly suited to our needs (Timberdoodle has a tool that helps you do this or you can do it on your own by picking and choosing which items you buy and using these in combination with things you already have or that you purchase elsewhere). We won't spend hours each day doing preschool because most of the materials we've selected will be used while we play, read, or draw—things we already do every day!
As I wrap up this post, let me clearly state that I have no association with Timberdoodle. They didn't give me free products in exchange for writing this post. In fact, I'm pretty sure the company has never seen my blog! I'm simply sharing why my family has customized one of their curriculum kits in the hope that this information will help you as you make your own choices about preschool and curriculum.
Next week I'll share what our curriculum kit contains and then I promise to stop talking about preschool for a while!
Do you do preschool at home? If so, what does this look like? Do you use a curriculum? How much time do you spend on it each day? I'd love to hear about your experience!
Shared at the following:
Coffee and Conversation, Homemaking Linkup, Home Garden Inspiration, The Art of Homemaking, and AIM Link-Up.
Save
Save
Save
Save
Save
Save
Save
Save