It wasn't until I saw a second line appear on a home pregnancy test that I began to understand just how much anxiety is associated with motherhood.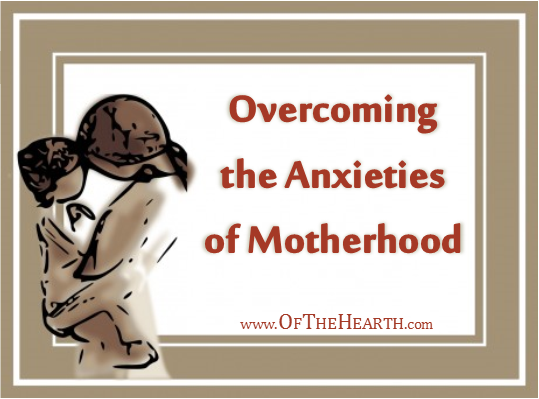 At first it was concerns about the possibility of miscarriage, preterm labor, or stillbirth. These concerns soon gave way to fears about SIDS and apprehension about whether or not to sleep train. Soon I'll be fretting over the best approach to handling temper tantrums and the debate about whether to homeschool or use public schools. I don't even want to think about the teen years!
Anxiety is a pervasive feature of motherhood because the achievement of each developmental milestone ushers in new decisions and threats to the health and safety of our children. As I was thinking about this the other day, I had a bit of a revelation.
I wish I had the assurance that nothing terrible will happen to my daughter. I wish you had this same assurance. We can't have this, though. As much as I hate to acknowledge it, cancer happens. Kidnappings happen. Car accidents happen. Rebellion happens. Worry doesn't prevent these things. In fact, all of the worry in the world won't protect our children—it just prevents us from enjoying the good things that are happening today.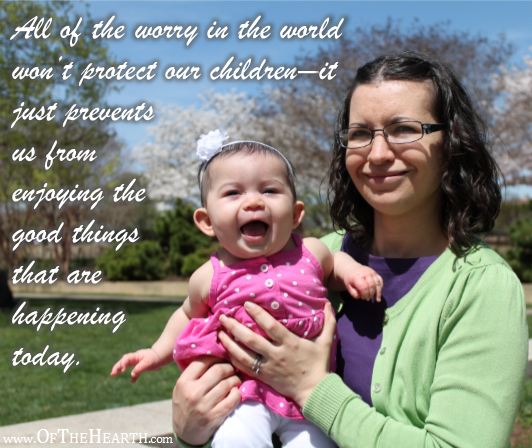 What then should we do? We should pray for God to protect our children and we should teach them about Jesus and the salvation we have through Him. We should implement common sense safety measures. We should savor today. We should enjoy the sweet smiles, the tiny toes, the giggles, and even the tantrums.
What are some practical ways we can resist anxiety as we do the things mentioned above? Here are the strategies that help me.
Tips for overcoming the anxiety of motherhood
Memorize Bible verses about God's presence and faithfulness.

Sometimes I just need to remind myself about God's character. Nothing can separate us from God's love (Romans 8:38-39) and He will never leave us or forsake us (Deuteronomy 31:6). He is a refuge in times of trouble (Nahum 1:7) and He upholds us (Isaiah 41:10). If you're not used to memorizing Scripture, consider starting with a short, simple verse. One I like is Psalm 56:3: "When I am afraid, I will trust in you."

Remember that anxiety is not the same thing as being responsible.

Sometimes I feel like worrying is a good thing because it means I care and am trying to take care of my daughter. However, this is not the case. Putting my daughter in a car seat is a responsible action that promotes safety. Worrying about the possibility of a car accident, on the other hand, accomplishes nothing. Take actions to help protect your children (learn infant and child CPR, teach them about strangers, feed them healthy foods, etc.), but don't waste time and energy worrying.

Choose good care providers and advisors.

Find a pediatrician who is competent and caring. Surround yourself with experienced moms who are knowledgeable and compassionate. Select a babysitter who will care for your children like she would her own. If you don't trust these individuals implicitly, then don't allow then to care for your children or give you advice. Find providers and advisors you can trust.

Cut yourself, your children, and others some slack.

I wanted to cry the first time I nicked my daughter's finger while trimming her nails. I felt like I was a terrible mom—I'd hurt my precious girl! This was a bit dramatic, but I bet many of you have also felt this way. We're all human, so we all make mistakes. We have to be patient with ourselves and others so we can recover from these mistakes. Sometimes this recovery is from a physical injury, other times it's from hurt feelings or the consequences of rebellion. Whatever it is, be gracious, loving, and forgiving.

Pray.

The Bible teaches us to cast our anxieties on God because He cares for us (1 Peter 5:7). We can free ourselves of worry by placing our concerns in the loving, capable hands of our Lord. As I noted earlier, this doesn't mean that nothing bad will happen, but it does mean that we can have peace in every circumstance and confidence that God is carrying out His purposes in our lives.
May we, like the wife of noble character, have no fear of the future.
"She is clothed with strength and dignity; she can laugh at the days to come." Proverbs 31:25
How do you handle the anxieties associated with motherhood?
Shared on the following link-ups:
Titus 2sday, Making Your Home Sing, Saturday Soiree, Weekend Wind Down, Coffee and Conversation, WholeHearted Wednesday, & Shine Blog Hop.
Save