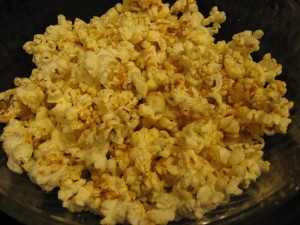 Popcorn is often overlooked as a relatively healthy snack option. This may be because it is often prepared or served in unhealthy manners, such as butter-drenched "movie theater" varieties or those popped in pre-sealed microwave popcorn bags that generally contain high amounts of unhealthy fats, numerous chemicals and artificial flavors, and may produce dangerous fumes. When prepared as described below, popcorn can be a healthy and affordable snack choice that is low in fat, high in fiber, and rich in antioxidants.
Preparation methods
Air popper

– Hot air popcorn poppers can be purchased for around $20-$30. Most of these appliances can make several cups of popcorn at a time. See the instructions that accompany each popper for directions.

Stovetop

– Put 2 tablespoons of oil and ¼ cup of popcorn kernels in a heavy skillet over medium heat. Cover with a glass lid. Shake the skillet a few times as the kernels heat. Once popping begins, reduce the temperature to low and shake the skillet until the popping dies down.

Microwave (bowl method)

– Place ¼ cup of popcorn kernels in a microwave safe glass bowl. Cover the bowl with a vented lid or microwave safe glass lid that is not airtight. Microwave for 2-3 minutes or until the popping dies down. Be careful removing the bowl from the microwave because it may be a little warm.

Microwave (bag method)

– Place ¼ cup of popcorn kernels in a paper lunch bag. Fold the top of the bag over a couple of times. Microwave for 2-3 minutes or until the popping dies down. (Do not reuse paper sacks used to carry groceries because these sacks tend to be covered in germs.)
While some people enjoy plain popcorn, most prefer their popcorn have some sort of seasoning on it. There are a number of tasty toppings that can be used without ruining popcorn's status as a healthy snack. Simply drizzle a small amount of melted butter over the popcorn and then toss the popcorn with your preferred seasoning.
Seasoning ideas
Dash of salt
Garlic herb (garlic, oregano, basil, and parsley)
Cheesy herb (grated parmesan cheese, oregano, basil, and parsley)
Dash of salt and a spritz of vinegar
Cinnamon and sugar
Taco seasoning mix
Coconut curry (flaked coconut, curry powder, and pinches of sugar and salt)
Nutritional or brewer's yeasts
Lightly drizzled olive oil infused with rosemary
Pizza (garlic, grated parmesan cheese, oregano, basil, paprika, and black pepper)
Hot mustard (dry mustard, cayenne pepper, black pepper, and thyme)
Now, to try out a new idea…
Cheesy barbeque seasoning
2 ½ tablespoons grated parmesan cheese
½ teaspoon chili powder
½ teaspoon garlic powder
dash of salt
dash of onion powder
Pop ¼ cup of popcorn kernels using your preferred method. Drizzle with a small amount of butter and toss with the seasoning.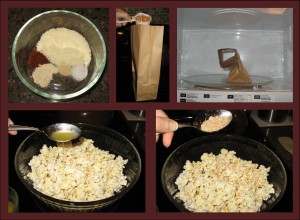 A 2 lb. bag of popcorn kernels costs about $1.79. This means each serving of popcorn costs only $0.07, plus the cost of the seasoning (which will be minimal in most cases).
What is your favorite way to top popcorn?