Today we are going to tackle another question from a reader. Her question is highly relevant to me and I think many of you will find it relevant, too.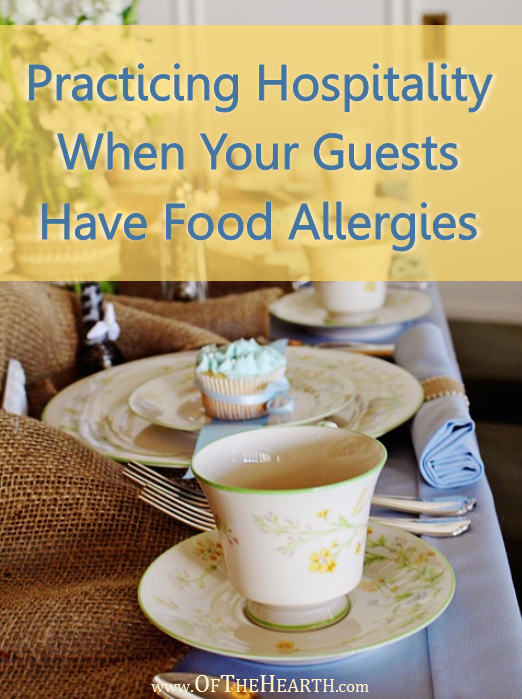 Rosie in New Jersey asked the following:
"It seems that everyone today has food allergies and intolerances. How do you safely welcome these folks into your home for dinner?" 

The reason it seems like "everyone" has food allergies is because the number of individuals with food allergies has increased significantly. In recent years, about 5.1% of U.S. children had food allergies. A decade ago, only 3.4% of U.S. children had food allergies (source). The prevalence of celiac disease, an autoimmune condition that is often lumped with allergies, has also increased. About 1 in every 133 Americans has the disease (source).
My sister and her family are coming to visit over their spring break. I've given some thought to welcoming guests who have dietary restrictions because my sister's youngest child has celiac disease and allergies to several foods. Here are some things I've learned while preparing for their visit.
Though it can be challenging, make the effort to welcome guests with dietary restrictions.
Moms of children with food allergies have told me previously that they and their children often feel isolated. When these children attend birthday parties and holiday celebrations, they are often unable to eat the foods that are served. Declining food can feel awkward and means that the children can't partake of an important component of celebrations. Some children with very severe allergies even have to avoid certain settings due to the presence of allergens. Adults with food allergies can experience similar feelings of isolation.
Try your best to prepare suitable foods.
Ask your guest about the details of his or her dietary restrictions so you know what foods you need to avoid. Select dishes that are appropriate and then carefully read food labels to make sure you avoid the problematic ingredients (gluten in the case of celiac disease or allergens such as peanuts or soy in the case of food allergies). If you're not sure about a particular recipe or ingredient, check with your guest! He or she likely won't mind and will actually appreciate your efforts.
Recognize that you may not be able to safely feed some guests with dietary restrictions.
If a guest has celiac disease or a severe food allergy, then even trace amounts of the problematic substance can trigger a response. Even if you use clean dishes and equipment, sometimes cross-contamination can occur. Cutting boards and waffle irons, for example, can contain traces of problematic substances even after they've been cleaned. Because of the risk of cross-contamination, sometimes it is best to use one of the following approaches.
Invite your guest to bring a safe dish to share.
If cross-contamination is a concern or you're uncertain if you can prepare a meal that is free of the problematic ingredient, then invite your guest to bring a dish or two to contribute to the meal. This may not be conventional when inviting a guest over for dinner, but it may be the best way to make sure there is safe food for your guest to eat.
Hospitality doesn't have to involve food!
A lot of times we equate hospitality with having people over for dinner. Fortunately, hospitality is a much broader concept! You can have guests over without feeding them dinner. For example, you could host a pool party or a yard game party during the summer months and simply provide a variety of drinks for refreshment. Likewise, there's no need to serve a meal if you invite your neighbors over to play board games or have a new friend over for Bible study.
I'm clearly not an expert on this topic, but some of you are. If you or one of your family members has dietary restrictions, then we need your input! Please share your suggestions in the comments section below.
Shared at the following link party:
Coffee and Conversation, Healthy Living, Think Tank Thursday, Shine Blog Hop, Funtastic Friday, Friday Frivolity, Small Victories Sunday, and Home and Garden Thursday.