When we look beyond the picnics, parades, and fireworks that characterize our Independence Day celebrations, we remember that the holiday commemorates our nation's birth.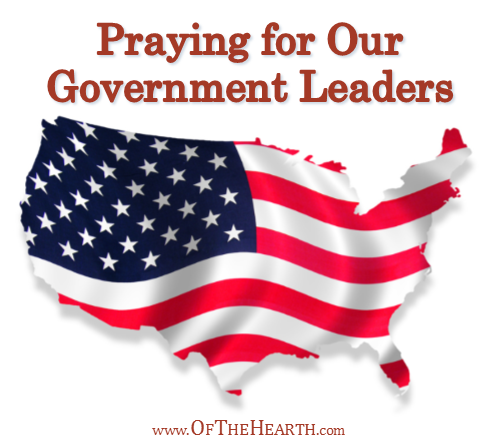 This commemoration serves as a reminder to me to pray for our government leaders. This is a wise thing to do because the God we serve is all-powerful and nothing happens outside of His control. Moreover, the Bible instructs us to pray for those in high positions (1 Timothy 2:1-2).
It's often easy to pray about one or two political issues that really matter to me. There is nothing wrong with this per se, but I always have to be careful not to confuse my personal opinions with Scriptural principles and God's will. I'd like to think that my opinions always line up with Scripture, but I'm a fallen human being, so this isn't always the case. I know that you're fallen, too, so let's all be careful to avoid praying self-motivated prayers. Let's search Scripture and pray, allowing the Holy Spirit to impress God's will upon us.
When we look beyond specific issues, it becomes evident that there are a number of general things we can pray for our leaders at the national, state, and local levels.
Pray they will have wisdom
"If any of you lacks wisdom, let him ask God, who gives generously to all without reproach, and it will be given him." James 1:5
"Blessed is the one who finds wisdom, and the one who gets understanding, for the gain from her is better than gain from silver and her profit better than gold. She is more precious than jewels, and nothing you desire can compare with her. Long life is in her right hand; in her left hand are riches and honor. Her ways are ways of pleasantness, and all her paths are peace." Proverbs 3:13-17
"But the wisdom from above is first pure, then peaceable, gentle, open to reason, full of mercy and good fruits, impartial and sincere." James 3:17
Pray they will have integrity
"Lying lips are an abomination to the Lord, but those who act faithfully are his delight." Proverbs 12:22
"To do righteousness and justice is more acceptable to the Lord than sacrifice." Proverbs 21:3
"A just balance and scales are the Lord's; all the weights in the bag are his work." Proverbs 16:11
"Whatever you do, work heartily, as for the Lord and not for men…" Colossians 3:23
Pray they will not be self-seeking
"Do nothing from rivalry or conceit, but in humility count others more significant than yourselves." Philippians 2:3
"So whatever you wish that others would do to you, do also to them, for this is the Law and the Prophets." Matthew 7:12
"Keep your life free from love of money, and be content with what you have, for he has said, 'I will never leave you nor forsake you.'" Hebrews 13:5
Pray they will have wise advisers
"Without counsel plans fail, but with many advisers they succeed." Proverbs 15:22
"Blessed is the man who walks not in the counsel of the wicked, nor stands in the way of sinners, nor sits in the seat of scoffers…" Psalm 1:1
Pray they will be safe
"In peace I will both lie down and sleep; for you alone, O Lord, make me dwell in safety." Psalm 4:8
"He who dwells in the shelter of the Most High will abide in the shadow of the Almighty. I will say to the Lord, 'My refuge and my fortress, my God, in whom I trust.' For he will deliver you from the snare of the fowler and from the deadly pestilence. He will cover you with his pinions, and under his wings you will find refuge; his faithfulness is a shield and buckler. You will not fear the terror of the night, nor the arrow that flies by day, nor the pestilence that stalks in darkness, nor the destruction that wastes at noonday." Psalm 91:1-6
Pray they will have faith in God
"This is good, and it is pleasing in the sight of God our Savior, who desires all people to be saved and to come to the knowledge of the truth." 1 Timothy 2:3-4
"For by grace you have been saved through faith. And this is not your own doing; it is the gift of God, not a result of works, so that no one may boast." Ephesians 2:8-9
"…because, if you confess with your mouth that Jesus is Lord and believe in your heart that God raised him from the dead, you will be saved." Romans 10:9
Do you pray for our government leaders? How do you stay motivated to do this? What things do you pray for them?
Shared on the following link-ups:
Word Filled Wednesday, Essential Fridays, WholeHearted Wednesday, Works for Me Wednesday & Monday's Musings.