It doesn't feel a whole lot like fall here on the Texas Gulf Coast, but that hasn't stopped me from baking up some fall-themed treats.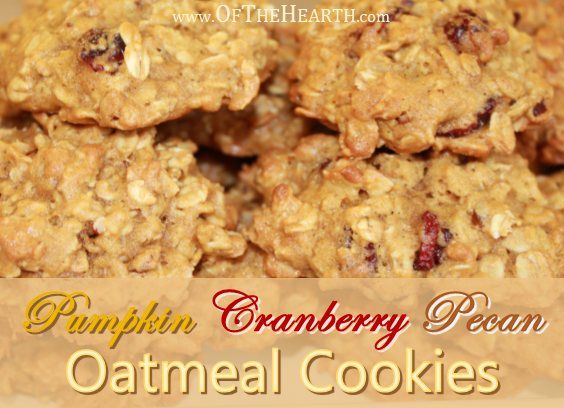 I wanted to bake some oatmeal cookies for my toddler because she absolutely loves oatmeal. She'll ask for it for breakfast, snack, lunch, and pretty much any other time she's hungry! I didn't want traditional oatmeal raisin cookies, so I peeked into my pantry to see what I had available. Using pumpkin puree, dried cranberries, and pecans, I tweaked a generic oatmeal raisin cookie recipe and—voilà—I was eating these delicious cookies two and three at a time!
Ingredients
2/3 cup butter (or coconut oil)
1/2 cup pureed pumpkin
1 cup sugar
1 cup brown sugar
2 eggs
2 tablespoons milk
1 1/2 teaspoons vanilla extract
1 1/2 cups flour
1/2 teaspoon salt
1 teaspoon baking soda
4 cups old fashioned rolled oats
1/2 cup pecan pieces
2/3 cup dried cranberries
Instructions
Preheat the oven to 375°F. In a large bowl, blend the butter (or coconut oil), pumpkin, and sugars. Add the eggs, milk, and vanilla; mix well. Then add the flour, salt, and baking soda; mix well. Stir in the oats, pecans, and cranberries.
Drop rounded tablespoons of the dough onto parchment paper lined cookie sheets. Leave about 2 inches between each drop of dough to allow for expansion. Bake for 13-15 minutes or until golden brown around the edges. Place on a wire rack to cool. Yield: approximately 42 cookies.
Notes
If you try these, I'm pretty sure you'll be tempted to eat several in one sitting, too! I'm not a fan of baked goods that have a really strong pumpkin flavor (like pumpkin pie), but I like the way these taste because the flavor is subtle. The medley of the savory pumpkin and pecans, sweet sugars, and tart cranberries is amazing! It's perfect for fall, though I would definitely welcome it any time of year. I may never make an oatmeal raisin cookie again!
These were a hit with my toddler and with friends. The only thing that would make them better is if they were served alongside a mug of warm apple cider!
What's your favorite way to prepare oatmeal cookies?
Shared at the following:
Monday's Musings, Tuesdays with a Twist, Coffee and Conversation, Weekend Potluck, Tuesday Talk, What's for Dinner?, and The Art of Homemaking.
Save
Save
Save
Save
Save
Save
Save
Save
Save
Save