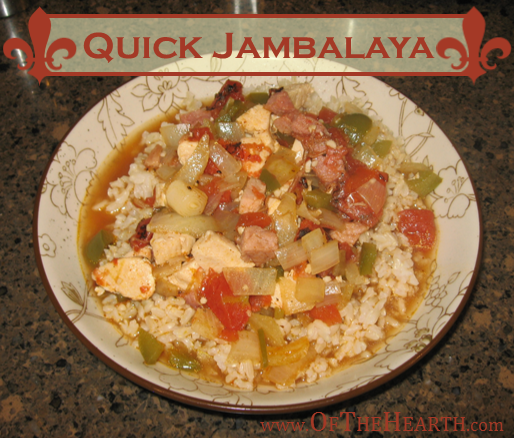 My husband enjoys the taste of Cajun food every once in a while. I used elements from several recipes to create a version that I can make with ingredients I have on hand for this summer's menu. My apologies to Cajun food enthusiasts—I realize this dish isn't very authentic! Regardless, we've enjoyed the convenience and spicy taste of it.
Ingredients
1 tablespoon olive oil
1 chicken breast
1 ½-2 cups chopped ham
1 medium onion, chopped
2 tablespoons chopped garlic
1 green bell pepper, chopped
1 can (14.5 oz.) fire-roasted diced tomatoes
4 cups chicken broth
Dash of cayenne pepper
1/4 teaspoon red pepper flakes
1 teaspoon chili powder
A few dashes of ground black pepper
2 cups long grain brown rice
Instructions
Prepare the rice according to the package directions.  As the rice cooks, cut the chicken into bite-sized pieces. Heat the oil in a large skillet over medium heat. Add the chicken and cook it until it is no longer pink.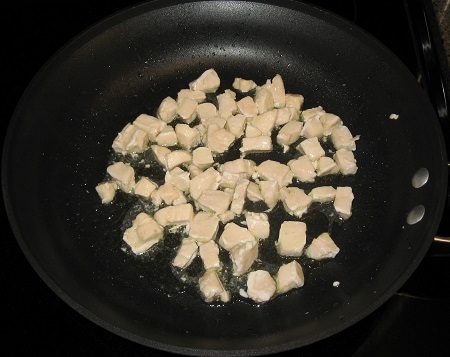 Add the ham, onions, garlic, and bell pepper. Cook for 5 minutes, stirring occasionally.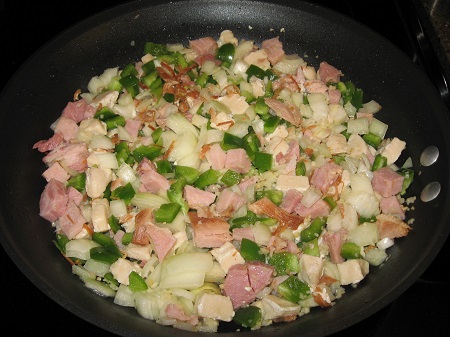 Add the tomatoes, broth, and spices. Increase the heat to medium high and bring it to a boil.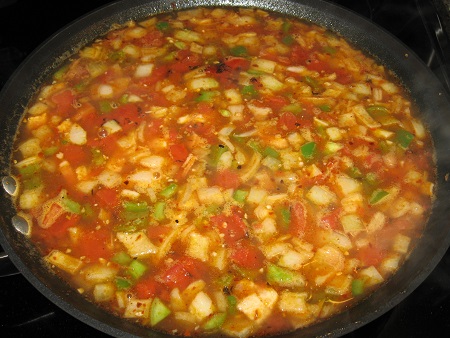 Once boiling, cover it with a lid and reduce the heat to low. Allow the jambalaya to simmer for 12-15 minutes or until the bell peppers are tender. Serve the jambalaya over the prepared rice. Yield: 6 servings.
Notes
This dish is pretty easy to make and, because of its spice, it provides a flavor that is distinct from a lot of the meals we eat in our house. There's a lot of broth in this dish—that's how we like it—but if you prefer more meat and veggies with less broth, you can reduce the amount of chicken broth to 2 cups. The recipe can also easily be adjusted to suit any taste preferences you have. Want less spice? Omit the cayenne pepper. Want more spice? Add some hot pepper sauce. Prefer sausage or shrimp in your jambalaya? Substitute them for the chicken and ham. You could even add beans to expand the dish a little.
The ingredients for this dish cost $7.58, which is $1.26 per serving (this price includes everything but the oil and spices, which are staples in my house). Enjoy the convenience and versatility of this dish tonight!