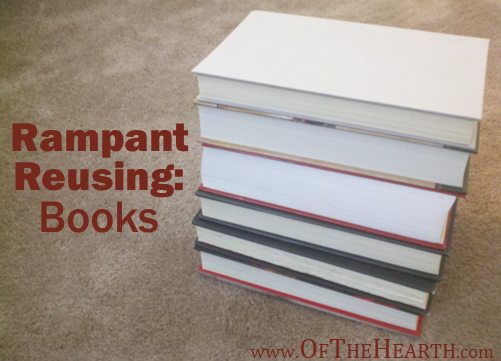 I would not arbitrarily encourage someone to destroy books (you can read here about various ways to get rid of books you no longer want or need). However, if you've decided to get rid of some books and you want to create something new with them, there are some really awesome options. These would be great uses for books that are damaged, outdated, or otherwise unsuitable for passing along to others.
Ways to Reuse Books
With the aid of basic sewing skills, fabric and premade handles can be added to the hardcover of a book to fashion a new handbag.
Simple brackets can be affixed to a wall and topped with books to make cute bookshelves.
Lamp components added to a stack of books with a hole drilled through them can be transformed into a unique lamp.
Clock components can transform a timeless classic into a timepiece.
Postcards can almost effortlessly be created out of the covers of paperback books.
An e-reader can be given a "real book" feel by making an old hardback book into a cover for it.
A delightful conversation piece can be created by crafting a planter out of two old books.
You can find more ideas on OF THE HEARTH's Pinterest page. What uses have you found for old books?