As I changed the license plates on my car a few weeks ago, it occurred to me that I've gone through several sets of plates in the last decade and a half.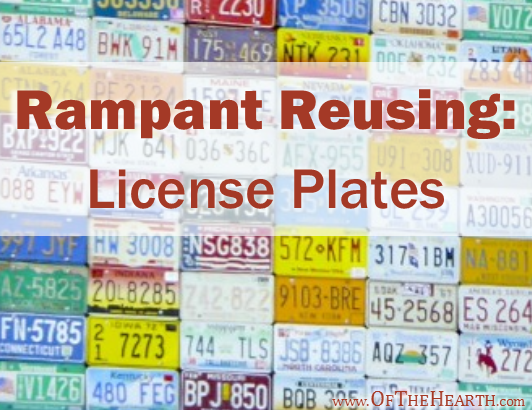 There has to be something creative I can do with the old plates instead of tossing them in the trash or letting them collect dust in a storage shed. Indeed, there are a number of awesome ways to reuse old license plates!
Ways to reuse old license plates
Bend the ends of license plates to create incredibly simple bookends.
Use tin snips to cut dragonfly wings from old plates to create a piece of garden art.
Attach clips to license plates to make useful clipboards.
Bend up the edges of a license plate to make a strong dustpan.
Use tin snips to cut letters and numbers out of old plates, then attach magnets to the backs of these so you can write messages on your refrigerator door.
Slightly bend a license plate in the middle to make a roof for a birdhouse.
Bend a license plate into the shape of a square. Attach a 3 in. x 3 in. wooden block at one end and you have a cute pencil holder.
It looks like I have some projects to try once we get a little more settled! You can see additional ideas on my Pinterest page.
What ways have you found to reuse old license plates?
Shared on the following link-ups:
Making Your Home Sing, Inspiration Spotlight and Creativity Unleashed.