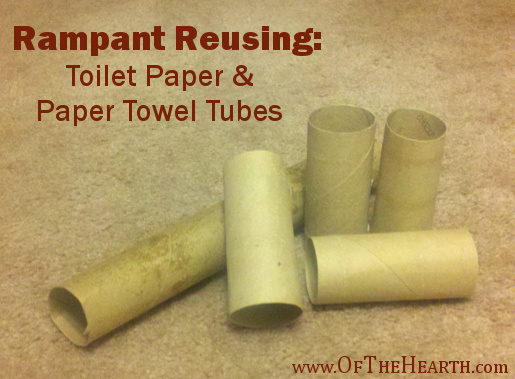 How many toilet paper and paper towel tubes do you throw away each year? Dozens? Scores? Do these tubes have to end up in the trash or is there some way to reuse them? I've been looking into some options.
10 Ways to Reuse Toilet Paper and Paper Towel Tubes
Place tubes over taper candles to prevent the candles from getting scratched when they are stored.
Tubes can be slipped over neatly wound cords to keep them from unwinding and becoming tangled.
Increase the reach of your vacuum's extension tool by adding a tube to the end of it.
A process similar to that used to make the wreath can be used to create lovely bows for gift packages.
Cut the tubes in 2-inch sections. Set them on their ends in rows in a plastic container and fill each with soil to create seed starters.
Prevent hangers from creating obnoxious creases in your dress pants by splitting paper towel tubes lengthwise and slipping them over the bases of the hangers before you drape your pants over them.
Create a chair for a small doll by placing a tiny cushion onto a carefully shaped and painted tube.
Wrap newspaper around tubes that have been filled with dried leaves and twigs to create fire starters. Colored paper can be used in place of newspaper to create a festive look.
You can find more ideas on OF THE HEARTH's Pinterest Page. What uses have you found for toilet paper and paper towel tubes?