While wire hangers can always be employed for their intended use (you know…hanging clothes), I'm not pleased with their performance in this capacity.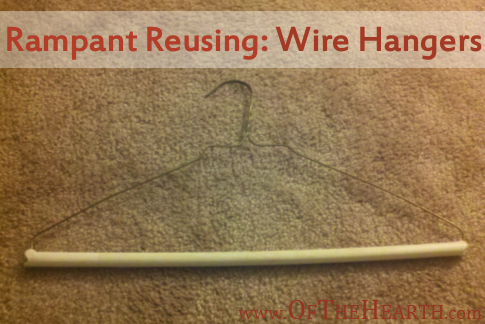 As a result, the wire hangers my husband and I have are currently taking up space without providing any benefit. Hopefully, with the help of the ideas listed below, this will change.
10 Ways to Reuse Wire Hangers
Shape regular hangers into special hangers for your flip-flop sandals.
Use a straightened hanger as a roasting stick for marshmallows or hot dogs. (Use unpainted hangers only!)
Wrap a straightened hanger around the lip of a flower pot to create a ring. Then secure a second hanger to the ring so the flower pot can be hung.
Shape a hanger into a circle and use it as a giant bubble wand.
Create a photo, memo, or place card holder with a section of wire cut from a hanger.

Photo, memo, or place card holder from olivebites.blogspot.com.

Manipulate hangers in multiple ways to build a trellis for plants.
Remove hairballs from drains with a straightened hanger.
Use a cut piece of wire from a hanger to plug an opened tube of caulk. Create a hook at one end of the cut piece so you can pull the plug out when it is time to use the caulk again.
Make a catapult. (This would make a great rainy day activity for kids…or adults, I suppose!)
You can find more ideas on OF THE HEARTH's Pinterest page. What uses have you found for old wire hangers?
Shared on the following link-up: