Since the very beginning of our relationship, my husband and I have made a habit of reading together and intentionally discussing what we've read. In fact, during the 9 months we dated, we read Russell Moore's Adopted for Life
, C. S. Lewis' Pilgrim's Regress
, and Tony Dungy's Quiet Strength
(what a mix, huh?). As we proceeded through engagement and into marriage, we continued reading books, as well as numerous news articles and blog posts.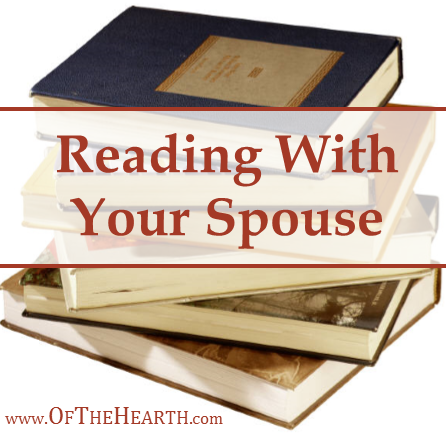 Even when we get busy, reading together is a priority because reading and discussing what we've read has been one of the most simple, yet beneficial aspects of our relationship. I realize that some individuals really enjoy reading and some do not. This will obviously influence how much a given couple wants to read. Hopefully some of the benefits of reading together that I've found, which are listed below, will encourage couples who read together to continue doing so and challenge those who don't to give it a try.
Keep in mind that when I refer to reading, I'm not simply thinking of books. I'm thinking of a variety of reading materials (news and magazine articles, blog posts, comics, etc.). Additionally, you and your spouse can read common material together or separately. Sometimes my husband and I sit side-by-side and read together (either silently or out loud to one another). Other times we aren't able to read at the same time, so we read on our own and then discuss what we've read at a later time. I believe benefits can be gleaned either way.
Benefits of reading together
Reading broadens the topics you discuss, thereby allowing you to learn more about your spouse

. If you read a variety of materials, you will inevitably come across topics you would not otherwise have encountered. (Think about my husband and I reading Adopted for Life while we were dating. We discussed family, adoption, and childrearing for weeks!) As these unanticipated and sometimes unconventional topics enter your consciousness, chat about them, debate them, and do more research about them. In doing so, you'll not only become more knowledgeable about the world around you, but you'll learn new things about your spouse.

Reading encourages you to slow down

. In general, reading provides an opportunity to relax. Slow down, sit back, and take a deep breath as you read. Take advantage of your time spent reading by using it as a break.

Time set aside for reading provides you with an enjoyable activity to anticipate

. If you and your spouse do sit down and read together, then reading can provide quality time for the two of you away from the hustle and bustle of everyday activities. Who doesn't look forward to these sorts of times?

Reading together provides you and your spouse with common memories, examples, and analogies

. At various times in the future, you'll be able to draw analogies and examples from what you've read in order to communicate more clearly. You'll also have shared memories of ideas, facts, explanations, opinions, and other concepts to help you navigate, process, and respond to the events of life.
My husband and I are reading Keller's The Meaning of Marriage
next. Are you and your spouse reading anything together? What have you found to be the benefits of reading together?
Shared on the following link-ups:
Essential Fridays, Thrive @ Home, Works for Me Wednesday, WholeHearted Wednesdays, Monday's Musings, Living Proverbs 31 & Titus 2sday.