A short time after we had our daughter, I began relating to my husband more as a co-parent than as a wife. I realized this was happening because I no longer looked forward to him coming home in the evening so I could spend time with him. Instead, I was eager for him to come home so that he could help care for our daughter!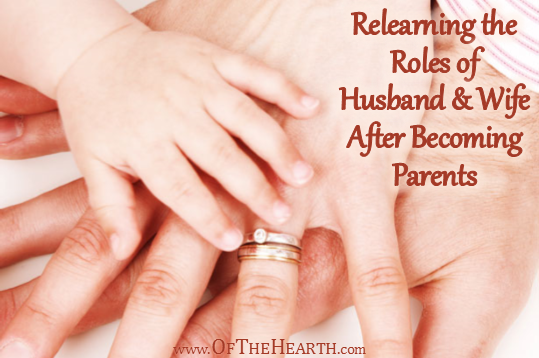 Though this change in roles was foreign to us, it certainly wasn't a unique phenomenon. It's actually quite common for couples to struggle to relate to one another as spouses when they become parents. Though I'm not a marriage expert, I've learned a few things about this struggle and I'd love to share the strategies that have helped my husband and I relearn how to be husband and wife as we parent our wonderful daughter.
Tips for keeping your marriage strong after having a baby
Spend time together during which you don't focus on parenting.

A baby permeates every facet of your life! My husband and I found ourselves thinking about, talking about, and caring for our girl almost all of the time. This is good for her because it means we are very attentive, but it's not so good for us because it means we're not being attentive to one another—something that is necessary to maintain our relationship. We feel much closer when we take time to discuss other topics and engage in fun activities (watching a movie together when the baby is asleep, going shopping, etc.). Regularly talking through a set of marriage check-in questions has been particularly helpful.

Make physical intimacy a priority.

So many factors make physical intimacy a challenge after having a baby. There's the physical recovery from birth, the fatigue from night feedings, the stress from trying to calm a fussy baby, etc. Physical intimacy plays an important role in marriage, so it's crucial to overcome these challenges (1 Corinthians 7:5). Though we missed the spontaneity we had before becoming parents, we found it useful to plan ahead so we had time set aside for sex. Setting aside time first thing in the morning, when fatigue was less of an issue, was particularly helpful. Also, it has been beneficial for us to remember the importance of non-sexual physical touch. Holding hands, cuddling, and similar activities go a long way in supporting a marriage.

Eat right and try to get enough sleep.

Our minds and bodies are interconnected; therefore, lack of sleep and poor nutrition negatively impact our emotions and relationships. Sleep is hard to come by when you have an infant, but it's important to try! In the early weeks with my daughter, I often wanted to use nap time to get caught up on housework, but it was best to use this time to take a brief nap. It was also difficult to find time to prepare nutritious meals. It helped to accept friends' offers to bring by meals, to take advantage of healthy convenience foods, and to drink lots of water.

Notice and appreciate the things your spouse does for you.

When we're busy and under stress, we have a tendency to notice all the things our spouses don't do that we wish they would. I've found it beneficial to actively watch for things my husband does do so I can say "thank you." This takes so little effort to do, but has a significant, positive impact.

Communicate your needs.

Our spouses cannot accurately guess all of our needs and expectations. If we assume they will, then we will be disappointed. Under the stress of motherhood, I began expecting my husband to read my mind. Once I realized I was doing this, I was able to be intentional about communicating my needs. I began being specific in my requests, I avoided nagging, I tried not to make accusations, and I prayed about our communication. Click here for a more in depth discussion on communicating needs and expectations in marriage.

Do things that bless and encourage your spouse.

When I'm feeling tired and rundown, the last thing I want to do is muster the energy to go out of my way to say and do things that make my husband feel special. However, these very acts give me an energy boost and bolster our marriage. (Don't just take my word for it—the Bible describes this pattern in Proverbs 11:25: "The generous will prosper; those who refresh others will themselves be refreshed.") These acts don't have to be elaborate. In fact, simple things like making my husband a special dessert, sending an encouraging text message, or grabbing him a treat at the grocery store are often all it takes to make us both feel united and happy.
How did having a baby impact your marriage? In the comments section below, share your tips for keeping your marriage strong as you adjust to parenthood.
Shared on the following link-ups:
The Art of Home-Making, Saturday Soiree, Shine Blog Hop, Wifey Wednesday, Wedded Wednesday, Faith Filled Wednesday, Teach Me Tuesday and Titus 2 Tuesday.