A couple of weeks ago my husband requested Salisbury Steak for dinner. As I began preparing this dish, I realized that the meat patties of Salisbury Steak—comprised of minced or ground meats combined with extenders (bread crumbs, flour, oats, etc.), seasonings, binders (such as egg), and various liquids (broth, cream, vinegar, etc.)—are a lot like meatloaf.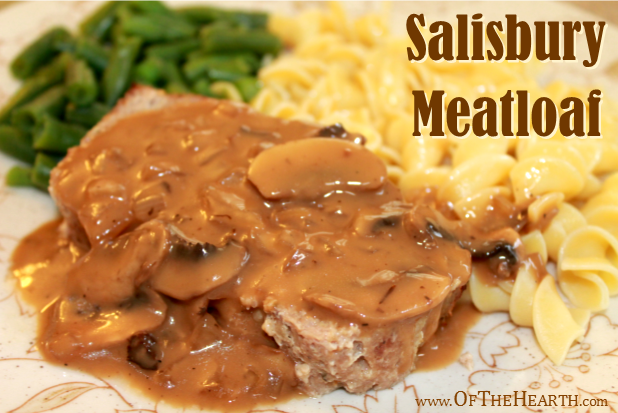 When I was preparing the Salisbury Steak, I decided to save a little time by forgoing the patties in favor of a Salisbury Meatloaf. The result was an easy, delicious dinner!
Ingredients
(Significantly adapted from this recipe.)
For the meatloaf
2 lbs. ground beef
1 egg, beaten
1/2 cup panko bread crumbs
1 tablespoon butter, melted
1/8 cup heavy cream
1 teaspoon Worcestershire sauce
½ teaspoon dried thyme
½ teaspoon onion powder
½ teaspoon garlic powder
Several pinches salt and pepper
Prepared egg noodles or mashed potatoes (optional)
For the mushroom sauce
4 tablespoons butter
1 small onion, minced
8 oz. mushrooms, sliced
Pinch of salt
1/4 cup flour
2 cups beef stock
1 teaspoon Worcestershire sauce
Few pinches of black pepper
1/4 teaspoon dried thyme
1/4 cup heavy cream
Instructions
For the meatloaf
Preheat oven to 350°F. In a large bowl, combine all of the ingredients except the noodles or mashed potatoes. Form into a loaf and place in a lightly greased loaf pan.
Bake for 65-75 minutes (until the internal temperature of the meatloaf reaches a minimum of 160°F). Remove the meatloaf from the oven and allow to sit for 5-10 minutes.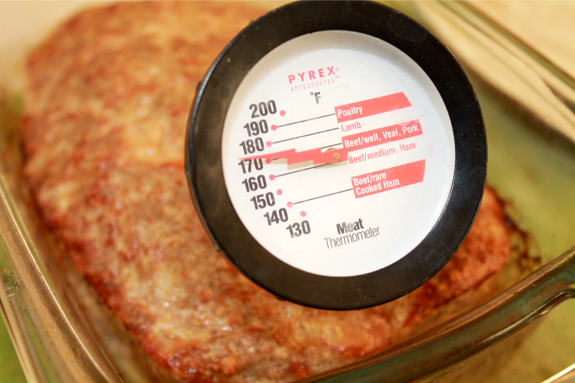 For the mushroom sauce
Heat the butter in a saucepan over medium heat until it foams. Stir in the onion and mushrooms. Season with the salt. Simmer until the mushrooms and onion are tender and most of the liquid has evaporated.
Whisk in the flour, cooking and stirring for about 5 minutes. Add half of the beef stock, whisking briskly until incorporated, then pour in the remaining stock and the Worcestershire sauce. Mix thoroughly. Season with the black pepper and thyme. Reduce the heat to low and stir in the cream. Simmer until thickened, about 20 minutes, stirring often.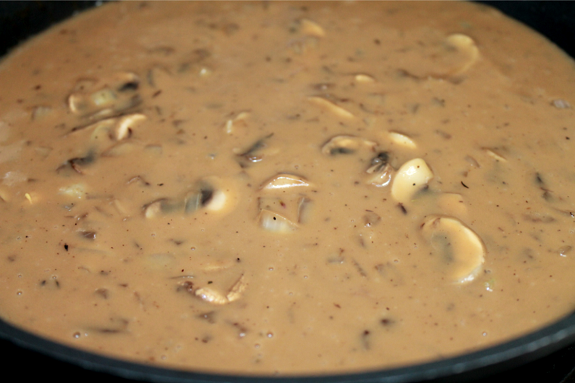 To serve
Slice the meatloaf after it has cooled for 5-10 minutes. Top each slice with the mushroom sauce. If desired, serve the meatloaf and sauce over prepared mashed potatoes or egg noodles. Yield: 5 servings.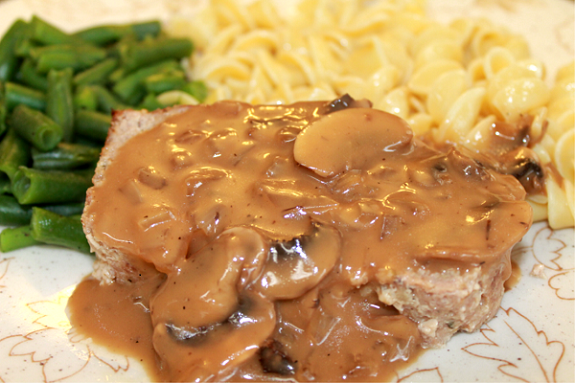 Notes
This dish has comfort written all over it! It wasn't all that different from run-of-the-mill meatloaf and gravy. However, we felt that the flavor of this was a little better. I think it is the thyme and Worcestershire sauce that made the difference. The meatloaf was so flavorful and moist that both of my toddlers ate significant portions of it! The gravy was savory and just the right consistency. We served our Salisbury Meatloaf over egg noodles, but it would also be great on its own or served over mashed potatoes or rice.
The ingredients for this dish cost approximately $12.75, which means each serving cost about $2.55. We served it with a veggie on the side, which increased the price to around $2.75 per serving. We'll be making this one again soon!
Does your family like Salisbury Steak? Would they like it in the form of meatloaf?
Shared at the following:
Coffee and Conversation, Friday Frivolity, Awesome Life, Weekend Potluck, Think Tank Thursday, The Art of Homemaking, What's for Dinner? and Homemaking Link-Up.
Save
Save
Save
Save
Save
Save
Save
Save
Save
Save
Save
Save
Save