I think this may be my favorite of the new dishes on our winter menu. It's one that my husband found on Pinterest!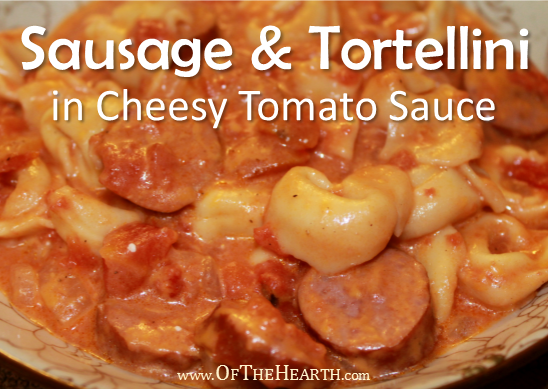 Conveniently prepared in one pot, this savory and warm dish is a perfect winter dinner.
Ingredients
(Adapted from this recipe.)
1 lb. smoked sausage, sliced
1 medium onion, chopped
½ tablespoon olive oil
1 cup chicken broth
1 can or carton (26 oz.) diced tomatoes
1 package (18-20 oz.) frozen cheese tortellini
Several dashes of salt and pepper
2 tablespoons cream cheese, softened
2 cups shredded cheddar cheese
Instructions
Place the onion and olive oil in a Dutch oven or large skillet. Sauté over medium heat until the onion is tender. Add the sausage and cook until browned.
Add the chicken broth, tomatoes, tortellini, salt, and pepper. Bring to a boil, stirring frequently. Turn the heat to low; cover and simmer for about 10 minutes or until the pasta is cooked. Remove from the heat and stir in the cheeses. Cover and let sit for five to ten minutes before serving. Yield: 5 servings.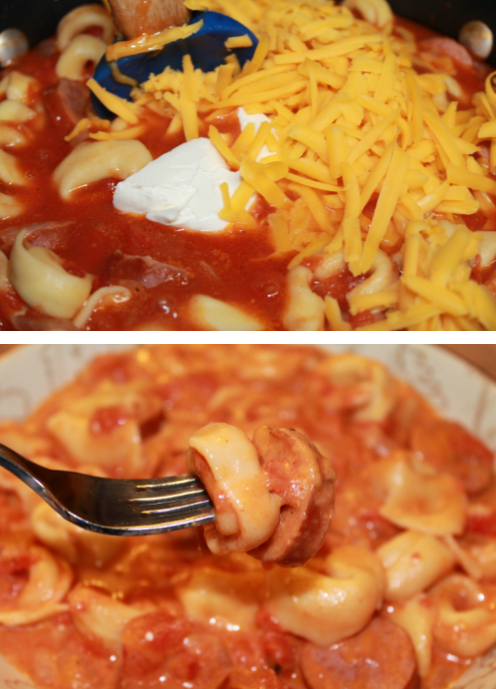 Notes
I'm always interested in one-pot dishes because of their convenience. This one utilizes frozen tortellini, which just adds to its ease of preparation. Its great savory flavor makes it a hit with my whole family, especially with my toddler who is currently in love with sausage!
The ingredients for this dish cost about $11.97, which means each serving costs approximately $2.39. I try to prepare meals that cost a little less than this in order to remain in budget, but this one is a nice splurge because we love the flavor so much!
Give it a try! I think your family will love the flavor, too!
Shared at the following:
Weekend Potluck, What's for Dinner?, Monday's Musings, The Art of Home-Making, You're the Star, Home and Garden Thursday, and Share the Wealth.
Save
Save
Save
Save
Save
Save
Save
Save
Save
Save